Centrum For Men 90 tablets
Centrum for Men has increased levels of Vitamin C, B Group vitamins and Magnesium to provide more Energy, Immunity and support a Healthy Heart and Muscles. *Compared to Centrum Advance & Centrum Advance 50+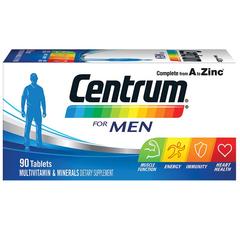 Specials are for online purchases only, don't miss out! -
Email
us to check for availability.
Nutritional needs vary for Men & Women. That's why Centrum For Men is specially formulated to support the needs of men The Benefits: Energy Includes B Vitamins, such as Folic Acid, to support daily energy. Immune Support With key antioxidants such as Vitamins A, C & E, Betacarotine, Selenium and Zinc to help support immune function. Healthy Muscles Contains Magnesium and Vitamin D to help support muscle health. Heart Function With Lycopene, Vitamin B6 and Folic Acid to help maintain a healthy heart. How is it developed? Nutrient needs vary across the life span for men and women. It has been long identified that specific nutrients increase or decrease depending on a person's age and gender. So Centrum has developed a product specially formulated to meet optimal RDI's (Recommended Daily Intake) and the different health needs of men. Who is it for? Centrum For Men is formulated to support the specific needs of men. Recommended Dietary Intakes (RDIs) and Centrum Centrum for Men does not contain excessive levels of vitamins and minerals but is developed with levels close to the RDIs, as the role of a multivitamin is to supplement the diet, not replace it. Centrum for Men is ideal for filling any nutritional gaps in a man's diet.
Adults: Take one Centrum for Men tablet daily with water. Do not exceed recommended daily dose.
VITAMINS & MINERALS Vitamin A (As Retinyl Acetate) 300mcg R.E.# Betacarotene 900mcg Vitamin D3 (Cholecalciferol) 20mcg Lutein 1mg Lycopene 600mcg Vitamin k1 (Phytomenadione) 25mcg Calcium Pantothenate 13.6mcg Vitamin B1 (Thiamine Nitrate) 4.6mg Nicotinamide 16mg Vitamin B2 (Riboflavin) 4.6mg Vitamin B6 (Pyridoxine Hydrochloride) 6.7mg Vitamin B12 (Cyanocobalamin) 21.6mcg Vitamin H (Biotin) 54mcg Folic Acid 400mcg Vitamin E (dl-alpha-Tocopheryl Acetate) 40mg Vitamin C (Ascorbic Acid) 180mg Calcium (as Calcium Carbonate 294.5mg and Calcium Hydrogen Phosphate 5.8mg) 300mg Magnesium (As Oxide) 84mg Iron (as Ferrous Fumarate) 6mg Zinc (As Oxide) 11mg Manganese (as Sulfate) 5.5mg Chromium (as Chloride) 35mcg Selenium (as Sodium Selenate) 55mcg Copper (as Sulfate) 900mcg Iodine (as Potassium Iodide) 150mcg #R.E. = Retinol Equivalents
This product contains Selenium which is toxic in high doses. Do not exceed a daily dose of 150 micrograms for adults of selenium from dietary supplements. Always read the label. Use only as directed. Vitamins are supplementary to and should not replace a balanced diet.