Cetaphil Oily Skin Cleanser 235ml
Cetaphil Oily Skin Cleanser provides effective cleansing for oily, combination or blemished skin.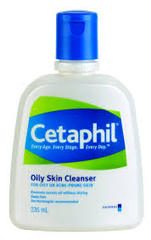 Specials are for online purchases only, don't miss out! -
Email
us to check for availability.
Its gentle foaming action removes oil, dirt, skin debris and makeup without leaving your skin dry and, importantly, without the tightness that results from soap-based cleansers.

That's because it is formulated to remove oil without affecting the skin barrier. (Skin acts as a barrier, keeping moisture in so it is important that a cleanser works without compromising the skin barrier.) Cetaphil Oily Skin Cleanser does not clog pores and can be used in conjunction with acne medication.

Higher than normal levels of sebum production is the reason why skin appears oily. Used twice daily for two weeks on people with moderately oily skin, Cetaphil Oily Skin Cleanser reduced sebum levels by up to 60% without over drying the skin.
To achieve and maintain healthy skin
Follow the Cetaphil 3 Step Regimen, including cleansing, moisturising and protecting skin from harmful UV exposure. These simple steps are an important part of caring for your skin.
Step 1: Cleanse gently
Before applying moisturiser, use a mild, soap-free, fragrance free, low irritant cleanser.
If you are also using topical medication to treat your skin, mild cleansing can help prepare skin for absorption of topical medication.
Step 2: Moisturise intensely
Moisturising helps restore the skins natural protective barrier.
Use a non-greasy, fragrance free, non-comedogenic moisturiser to hydrate and soften your skin.
Moisturising can also assist with absorption of topical medications.
Step 3: Protect daily
It's important to protect skin from everyday UV exposure.
Use a fragrance free, hypo-allergenic, broad spectrum, SPF 50+ moisturiser.
Always read the label. Use only as directed.
Always read the label. Use only as directed.