Clinicians Bladder Support 50g powder
Clinicians Bladder Support contains fast acting D-Mannose, a natural plant sugar which supports healthy urinary tract function. D-Mannose discourages harmful bacteria such as E Coli from sticking to the walls of the urinary tract and then washes them away with the urine to support urinary tract health.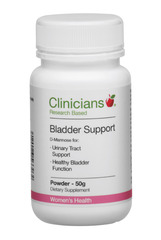 Specials are for online purchases only, don't miss out! -
Email
us to check for availability.
Bladder Support Benefits
Clinicians Bladder Support is a research based formula that discourages harmful bacteria from sticking to the walls of the urinary tract so they can be excreted with the urine
D-Mannose is quickly absorbed for rapid results, then moves into the blood stream and is then excreted via the kidneys
The pure D-Mannose powder format allows for cost effective variable dosing for all age groups
It can be used to support urinary tract health in individuals who experience frequent urinary tract imbalances
Suitable for use in pregnancy, when breastfeeding and for children
Can be used alongside conventional medicines
Bladder Support Features
D-Mannose is a natural carbohydrate sugar naturally produced in the body and is also found in fruits such as cranberries, peaches, apples, oranges and blueberries
Bacteria preferentially bind to D-Mannose, which aids their removal in the urine
Pleasant tasting and non toxic with no side effects
Provides cost effective flexible dosing for all age groups
A natural alternative to support urinary tract health
The urinary tract is usually quite resistant to bacterial imbalances because of the low pH of urine, presence of urea and constant urine flow, which helps to retard the build-up of potentially harmful bacteria. Chronic recurring bladder imbalances are generally problematic to treat. Determining the underlying cause is important for a successful outcome. Structural abnormalities and environmental and dietary factors such as excessive sugar consumption, food allergies, nutritional deficiencies, and infections should all be considered. Peri-menopausal and post-menopausal women may be more prone to urinary tract imbalances due to declining oestrogen levels and may need to discuss the need for local oestrogen therapy with an appropriate health professional.
In addition, incomplete emptying of the bladder (age-related), immobility, inadequate fluid intake and bowel incontinence may also contribute to the development of imbalances. A significant feature of recurrent bladder imbalances is the adherence of harmful bacteria to the wall or lining of the urinary tract, including the kidneys and bladder. Sometimes these bacteria can be removed through the process of urination, however large volumes of bacteria may be hard to remove this way which then leads to recurrent symptoms. Most natural therapies target this build-up of harmful bacteria and support the body's removal of them.
Recommended Dose:
Adults: Take 2 level 1.25ml measures (using the spoon provided) in water every 3 to 4 hours during waking hours for 48 hours. Thereafter, take half to 1 measure once or twice daily for 3 additional days.
Children 4 years and over: Take 1 level 1.25ml measure (using the spoon provided) in water every 3 to 4 hours during waking hours, for 48 hours. Thereafter, take a quarter to half measure once or twice daily for 3 additional days.
Active Ingredients in 2 level 1.25ml measures:Strength Unit
D-Mannose 1500 mg

No added: gluten, dairy, yeast, sugar, artificial colours or preservatives.
High does consumed over an extended period of time may be toxic to the kidneys. Ensure the dosing guidelines are correctly followed and not exceeded. Consult your healthcare provider if symptoms do not abate within 24 hours of supplementation.

Generally considered safe and well tolerated at the recommended dose. In some individuals, supplementation with D-mannose can cause mildly loose stools and abdominal bloating. This effect is transient and ceases after discontinuing supplementation.

Diabetics: The D-Mannose in Clinicians Bladder Support is not metabolized or used by the body to produce energy, it may however cause a small transient increase in blood sugar levels, which should rapidly return to normal after the individual has ceased taking this product.

When to consider antibiotics: If symptoms do not show significant improvement within 24-48 hours (10% of cases) when taking Clinicians Bladder Support, the bacteria E.coli may not be the cause, consult a health professional as antibiotic therapy may be required.

Pregnancy & Breastfeeding: Considered safe and well tolerated to use during these times.
Clinicians products support rather than compete with modern medicines. As medicines can deplete nutrients in the body, it was important to develop nutritional products that replenish the nutrients lost. Clinicians products, if taken on a regular basis, can also reduce the dependency on modern medicines.
Back in 1997, two pharmacists - Mike Cushman and Denis Kay - came to realise that the current pharmaceutical model was limited. Simply put, it couldn't provide the total answer to delivering wellness for their customers. Mike and Denis researched general and specific conditions to understand key drivers that triggered the imbalances that caused specific conditions. Along with this they researched the impact of modern medicines on body processes and their contribution to these imbalances.
And the result? The Clinicians product range of nutritional support. The product range developed includes not only general vitamin and mineral supplements, but also products for specific conditions and now a Works With Medicine range.