Clinicians BloodSugar Balance 90 capsules
BloodSugar provides essential nutrients to support healthy blood sugar levels, carbohydrate metabolism and insulin sensitivity.
Blood Sugar Balance replaces InsulBalance. Now a superior formulation in a capsule to improve absorption, less dose required and at a lower price.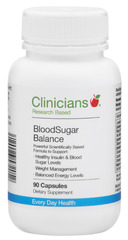 Specials are for online purchases only, don't miss out! -
Email
us to check for availability.
BloodSugar Benefits
Nutrient support for maintaining healthy glucose and insulin metabolism
Chromium, magnesium and zinc to support insulin sensitivity and balance blood sugar levels
Provides a unique combination of herbs to help manage free radicals and support hepatic, glucose and insulin metabolism
Contains Green Tea and Grape Seed antioxidants that may assist with appetite and weight management
Contains Milk Thistle which may support healthy liver function to assist the liver metabolising carbohydrates and insulin
May assist with appetite and weight management
BloodSugar Features
Trace minerals and macro minerals to support insulin regulation
Synergistic botanicals
Green Tea, Grape Seed and Milk Thistle
Supports carbohydrate and sugar uptake and metabolism
Safe to use alongside medication
Recommended Dosage:
Adult dosage: 1 capsule 2 to 3 times daily with food.
Active ingredients now showing per capsule:
Camellia sinesis (green tea) ext. equiv. to dry leaf 14.4 g
[Standardised to not less than 176mg total tea polyphenol, 144mg catechin and 90mg EGCG (epigallocatechin gallate)]
Vitis vinifera (grape) ext. equiv. to dry seed [Standardised to not less than 32mg of proanthocyanidins] 4 g
Silybum Marianum (Milk Thistle) ext.equiv.to dry seed [Standardised to not less than Silymarin 27mg] 2.3 g
Cinnamomum cassia (Cinnamon) ext. equiv to dry bark 340 mg
Curcumin 15 mg
Chromium (III) chloride (equiv. chromium 167mcg) 0.85 mg
Magnesium citrate (equiv. magnesium 33mg) 215 mg
Zinc amino acid chelate (equiv. zinc 5mg) 25 mg

Also contains: Magnesium stearate, microcrystalline cellulose and silicon dioxide
No Added: gluten (or wheat), dairy, yeast, sugar, artificial colours, sweeteners, flavours or preservatives
Clinicians BloodSugar Balance is generally considered safe and well tolerated at the dose recommended

Check with your health professional before using in individuals on blood sugar lowering medications, as Clinicians InsulBalance may have an additive effect. Blood sugar and insulin levels should be monitored particularly in the first one to two months as medication requirements may change. Exercise caution as curcumin may stimulate the gallbladder in people with gallbladder disease.

Pregnancy & Breastfeeding: Avoid in pregnant or breastfeeding women as there is insufficient safety information on the herbs (cinnamon, grape seed and milk thistle) to recommended supplementation during this time.
Clinicians products support rather than compete with modern medicines. As medicines can deplete nutrients in the body, it was important to develop nutritional products that replenish the nutrients lost. Clinicians products, if taken on a regular basis, can also reduce the dependency on modern medicines.
Back in 1997, two pharmacists - Mike Cushman and Denis Kay - came to realise that the current pharmaceutical model was limited. Simply put, it couldn't provide the total answer to delivering wellness for their customers. Mike and Denis researched general and specific conditions to understand key drivers that triggered the imbalances that caused specific conditions. Along with this they researched the impact of modern medicines on body processes and their contribution to these imbalances.
And the result? The Clinicians product range of nutritional support. The product range developed includes not only general vitamin and mineral supplements, but also products for specific conditions and now a Works With Medicine range.