Clinicians Coenzyme Q10 (200mg) 60 Soft capsules
Clinicians Q10 (CoQ10) is an important antioxidant and cofactor in the production of cellular energy. Clinicians Coenzyme Q10 provides potent antioxidant support for healthy heart function, energy levels and oxygen to the cells.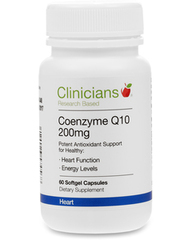 Specials are for online purchases only, don't miss out! -
Email
us to check for availability.
Coenzyme Q10 (CoQ10) levels decrease as a result of ageing, some medications and poor diet. Improved bioavailability is achieved from the liquid CoQ10 licap capsules which contain naturally fermented CoQ10.
Coenzyme Q10 (200mg) Benefits
Assists with energy levels
Suitable antioxidant for all age groups
Supports cellular protection during the aging process
Essential for cardiovascular health
Cell metabolism, muscular-skeletal health and periodontal health
Coenzyme Q10 (CoQ10) is an essential cofactor for the manufacture and utilisation of energy (or ATP) by the mitochondria, the body's energy producing cells. Heart, liver and skeletal muscle cells have a high requirement for CoQ10. CoQ10 exhibits antioxidant activity, support overall energy production and helps protect cell membranes from free radical damage the contributes to the aging process.
CoQ10 is synthesised in the body but, tissue levels decline with age. Supplementation has been shown to be beneficial for cardiovascular health, blood sugar balance, energy levels, the nervous system and healthy teeth. Certain medications such as Statins (cholesterol-lowering medication) may deplete CoQ10 levels. Symptoms of CoQ10 depletion include muscle fatigue, and burning. It is essential that CoQ10 levels be restored as soon as possible in these individuals.
Coenzyme Q10 (200mg) Recommended Dose:
Adult: 1 capsule daily or as directed
Active Ingredients in each capsule:
Coenzyme Q10 naturally produced
Also contains: medium chain triglycerides,yellow beeswax
No added: gluten, dairy, yeast, sugar, artificial sweetners, flavours or preservatives.
Individuals taking blood-thinning medication such as Warfarin should use CoQ10 under health professional supervision.

Individuals on cholesterol lowering medications may require higher doses of Coenzyme Q10. For low dose therapy take CoQ10 50—100mg daily. For medium to high dose therapy take 100- 200mg CoQ10 daily or use 2mg Co Q10 per kg body weight as a general guideline.

Pregnancy & Breastfeeding: Coenzyme Q10 is regarded as safe to take as part of a multivitamin and mineral complex for pregnancy and breastfeeding.
Clinicians products support rather than compete with modern medicines. As medicines can deplete nutrients in the body, it was important to develop nutritional products that replenish the nutrients lost. Clinicians products, if taken on a regular basis, can also reduce the dependency on modern medicines.
Back in 1997, two pharmacists - Mike Cushman and Denis Kay - came to realise that the current pharmaceutical model was limited. Simply put, it couldn't provide the total answer to delivering wellness for their customers. Mike and Denis researched general and specific conditions to understand key drivers that triggered the imbalances that caused specific conditions. Along with this they researched the impact of modern medicines on body processes and their contribution to these imbalances.
And the result? The Clinicians product range of nutritional support. The product range developed includes not only general vitamin and mineral supplements, but also products for specific conditions and now a Works With Medicine range.