Clinicians Immune System Support (Del-Immune V) 30 capsules
Clinicians Immunity System Support contains the cell wall fragments from Lactobacillus rhamnosus which supports the body's own natural immune response.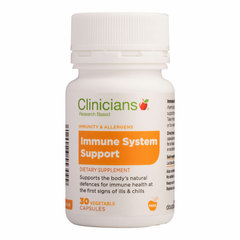 Specials are for online purchases only, don't miss out! -
Email
us to check for availability.
It plays a vital role in supporting overall body function and aids the body's defences for ills, chills, and allergens.
Immunity System Support works by supporting the innate or primary immune system as well as an acquired immune system which is involved in antibody production. It also supports the synthesis of important proteins called cytokines that modulate immune function.
Made from a special strain of lactic acid producing bacteria called Lactobacillus rhamnosus DV. This particular organism has a very important function in our intestine, namely the role of developing and regulating our immune system throughout life.
Previously known as Del-Immune V®.
Directions
Adults for Immediate Support: 2 capsules morning and night for 4 days, then 2 capsules daily for at least 5 days.
Adults as a Maintenance Dose: Take 1 capsule daily or as directed.
Each vegetable capsule contains:
Lactobacillus rhamnosus (DV strain) lysate powder 25mg
Also contains: Microcrystalline cellulose.
No added: Gluten, dairy, yeast, artificial colours or preservatives.
Precautions
Exercise caution, or avoid with individuals who have Multiple Sclerosis (MS) and Systematic Lupus Erythematosus. Both conditions express an up regulated immune system. N.B. the cytokine (inflammatory protein) causing MS is unrelated to the cytokine activated by Del-Immune V™
Pregnancy and Breastfeeding: Pregnant or lactating women should consult their health professional before taking any supplements. Can be used short term only for immune support.
TAPS CH4870
Clinicians products support rather than compete with modern medicines. As medicines can deplete nutrients in the body, it was important to develop nutritional products that replenish the nutrients lost. Clinicians products, if taken on a regular basis, can also reduce the dependency on modern medicines.
Back in 1997, two pharmacists - Mike Cushman and Denis Kay - came to realise that the current pharmaceutical model was limited. Simply put, it couldn't provide the total answer to delivering wellness for their customers. Mike and Denis researched general and specific conditions to understand key drivers that triggered the imbalances that caused specific conditions. Along with this they researched the impact of modern medicines on body processes and their contribution to these imbalances.
And the result? The Clinicians product range of nutritional support. The product range developed includes not only general vitamin and mineral supplements, but also products for specific conditions and now a Works With Medicine range.