Clinicians Flora Restore 30 capsules
Clinicians Flora Restore is a unique and scientifically researched oral probiotic for Women's health, to support urogenital health (Vaginal and Urinary Tract) and restoration and maintenance of healthy flora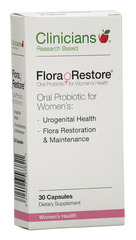 Specials are for online purchases only, don't miss out! -
Email
us to check for availability.
Flora Restore Benefits
Supports a healthy balance of yeasts and bad bacteria which lead to vaginal and bladder problems
Contains two unique clinically documented probiotic strains to colonise the vagina and urinary tract after oral intake to restore and maintain healthy urogenital flora (Lactobacillus rhamnosus GR-1 and Lactobacillus reuteri RC-14)
For use during and after antibacterial or antifungal therapy
Can be used as a maintenance product for women susceptible to vaginal and urinary tract problems
Flora Restore Features
First ever documented oral probiotic for vaginal health
Is backed by over 25 years of research, and has been proven to support the balance of healthy vaginal flora
Convenient blister packaging which also removes moisture and increases shelf life
Does not require refrigeration like most probiotics and is stable at room temperature
Unique encapsulation technology which ensures survival through the gastrointestinal tract
Suitable for all women of childbearing age including those who are pregnant and or breastfeeding
May be beneficial for peri-menopausal and post-menopausal women who may be more prone to vaginal and urinary tract imbalances due to declining oestrogen levels and may need to discuss the need for local oestrogen therapy with an appropriate health professional.
Can be used in conjunction with antibiotic or antifungal therapies (take at a different time of day for best results)
May also be used alongside Clinicians Bladder Support
Tip: Continue taking Flora Restore after antibiotic/ antifungal therapy has finished ensuring optimal colonization of good protective probiotic flora.
FloraRestore Recommended Dose:
Adult: 1 capsule daily ( either before, with or after meals) taken orally. Increase to 2 capsules daily as needed, or as directed by your health professional.
If taking in conjunction with antibiotics and/or antifungal drugs, take Clinicians Flora Restore at least one hour after medication
Active Ingredients in each gelatin capsule:
Total Probiotic Bacteria
Consisting of:
Lactobacillus rhamnosus GR-1™
Lactobacillus reuteri RC-14™
Also contains:Microcrystalline cellulose, dextrose, potato starch and magnesium stearate. May Contains traces of milk products.
No added: gluten (or wheat), artificial colours, sweeteners, flavours or preservatives.
None known, the probiotic strains (Lactobacillus rhamnosus GR-1 and Lactobacillus reuteri RC-14) in Clinicians Flora Restore are considered safe and well tolerated for daily and long term use if needed.

Clinicians Flora Restore contains traces of dairy/ milk products, making it suitable for individuals with mild dairy intolerance to use. Do not use in individuals with Ig E mediated dairy allergy or anaphylaxis.

Pregnancy & Breastfeeding: Probiotics are considered safe and well tolerated to use during pregnancy and breastfeeding.
Clinicians products support rather than compete with modern medicines. As medicines can deplete nutrients in the body, it was important to develop nutritional products that replenish the nutrients lost. Clinicians products, if taken on a regular basis, can also reduce the dependency on modern medicines.
Back in 1997, two pharmacists - Mike Cushman and Denis Kay - came to realise that the current pharmaceutical model was limited. Simply put, it couldn't provide the total answer to delivering wellness for their customers. Mike and Denis researched general and specific conditions to understand key drivers that triggered the imbalances that caused specific conditions. Along with this they researched the impact of modern medicines on body processes and their contribution to these imbalances.
And the result? The Clinicians product range of nutritional support. The product range developed includes not only general vitamin and mineral supplements, but also products for specific conditions and now a Works With Medicine range.