Clinicians Good Mood 60 capsules
Clinicians Good Mood is a powerful specialised formula to support good mood, healthy mental clarity and focus, brain health and particularly useful in times of stress. Based on a large pool of research and scientific studies Good Mood contains 3 important amino acids and B group vitamins to support the 'feel good' effect.

Replaces Clinicians Mood Tonic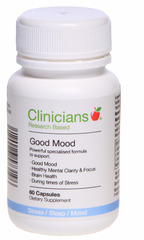 Specials are for online purchases only, don't miss out! -
Email
us to check for availability.
Good Mood Benefits
Helps support feelings of happiness, satisfaction and well being.
Provides support during times of stress, worry and feelings of being overwhelmed.
Nutritional support while on antidepressants (*see note below for precautions when taking antidepressant medication).
Good Mood Features
Formulated from a large pool of scientific research with a primary focus on supporting neurological health unlike any other available on the market in New Zealand
Combines a blend of 3 essential amino acids (L-Methionine, L-Phenylalanine and L-Tyrosine) with select B-group vitamins to support the production, conversion and utilisation of neurotransmitters (brain signalling chemicals) for healthy mood.
Provides compatible and complimentary amino acids to support healthy brain function.
Best taken with food - to enhance nutrient absorption. Protein helps facilitate the transport of tyrosine across the blood-brain-barrier and carbohydrates stimulate the release of insulin which helps lower peripheral levels of competing amino acids by two thirds.
Lifestyle Recommendations
Exercise is a vital component of any wellness regime. When we exercise we release neurotransmitters called endorphins. These are our body's own opiates that provide us with feelings of well being.
Ensure a nutritious diet containing a wide variety of fresh vegetables and fruit, whole grains and protein (eggs, nuts, seeds, beans, legumes, cheese, fish, chicken, beef, goat and lamb). A diet that is nutritionally dense has a beneficial influence on memory and learning. Avoid foods that are highly processed such as refined sugars and floured products as well as trans ('bad') fats.
It is important to reduce stress and find mechanisms by which to channel stress such as exercise, yoga, meditation and visualization techniques.
Clinicians Good Mood is a scientifically validated formulation designed to support healthy brain and neurotransmitter function. It contains nutrients to support the production of dopamine, serotonin and other neurotransmitters responsible for mood balance 5-HTP (5-Hydroxytryptophan) is the intermediate between the amino acid L-tryptophan and the brain neurotransmitter Serotonin. Low Serotonin levels have been linked to mood imbalances, irregular sleep patterns and tension in the head. vitamin B3 and vitamin B6 are cofactors for serotonin production. L-phenylalanine is an essential amino acid. It is converted to L-tyrosine in the brain which is a precursor for the neurotransmitters dopamine, adrenaline and noradrenaline. A deficiency or imbalance in levels of these neurotransmitters may predispose an individual to mood swings and low moods. A deficiency in any of these nutrients can affect mood balance and sleep.
Clinicians Good Mood may be used alongside Clinicians Omega-3 Fish Oil or Krill Oil with NZ Salmon for support of low mood. REM Sleep may be used where sleep is a concern.
Recommended Dose:
Adult: Take 1 capsule twice daily with food or as directed by a suitably qualified health professional
Active Ingredients in each gelatin capsule:
L-Methionine
L-Phenylalanine
L-Tyrosine
Vitamin B6 (from pyridoxine hydrochloride)
Vitamin B3 (nicotinamide)
Folic Acid
Vitamin B12 (as cyanocobalamin)

Also contains: Magnesium stearate and silicon dioxide.
No added: Dairy, yeast, sugar, artificial colours, sweeteners, flavours or preservatives.
Avoid in people diagnosed with Phenylketonuria (PKU) - PKU is a genetic disorder which affects the enzyme needed to breakdown the amino acid phenylalanine. A build up of phenylalanine in the blood can become toxic to the brain. PKU screening is a routine test for newborn babies.

*If you are taking MAOI's or antidepressant medication, talk to your health professional before taking this product - the combination of phenylalanine plus tyrosine produces tyramine which can lead to a migraine crisis in people on MAOI medication.

Pregnancy and Breastfeeding: Avoid use during pregnancy and breastfeeding.
Clinicians products support rather than compete with modern medicines. As medicines can deplete nutrients in the body, it was important to develop nutritional products that replenish the nutrients lost. Clinicians products, if taken on a regular basis, can also reduce the dependency on modern medicines.
Back in 1997, two pharmacists - Mike Cushman and Denis Kay - came to realise that the current pharmaceutical model was limited. Simply put, it couldn't provide the total answer to delivering wellness for their customers. Mike and Denis researched general and specific conditions to understand key drivers that triggered the imbalances that caused specific conditions. Along with this they researched the impact of modern medicines on body processes and their contribution to these imbalances.
And the result? The Clinicians product range of nutritional support. The product range developed includes not only general vitamin and mineral supplements, but also products for specific conditions and now a Works With Medicine range.