Clinicians Hi-Dose Chromium (1000mcg)
Clinicians Hi-Dose Chromium (1000mcg) provides a quality high potency form of the essential trace mineral chromium to support blood sugar balance, cardiovascular and cholesterol health and healthy weight management.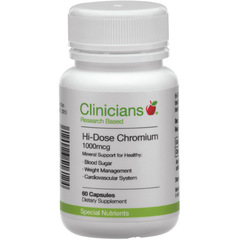 Specials are for online purchases only, don't miss out! -
Email
us to check for availability.
Hi-Dose Chromium Benefits

Supports glucose metabolism and maintains healthy blood sugar levels
Supports healthy blood cholesterol levels
Ideal for those who crave carbohydrates
It may also support healthy insulin metabolism

Hi-Dose Chromium Features
A highly absorbable and bio-available, non-toxic form of chromium for rapid utilisation in the body
High potency formula
Chromium is an important trace mineral that supports healthy insulin metabolism and blood sugar balance
Useful where only chromium is needed
Can be used alongside most supplements and conventional medications
Suitable for use during pregnancy and breastfeeding

Chromium may be taken with Clinicians Family Vitamin C and Vitamin B3 (niacin) for increased absorption.

Other Clinicians supplements that may be of benefit are: InsulBalance, Cholesterol Lo (to support healthy blood lipid levels), Stress & Energy Support (to support energy levels and balance stress).

Other areas where Chromium may be beneficial for supplementation include: cardiovascular health, eye health, muscle strength, muscle mass and weight management.

Chromium is an essential trace element that plays an important role in the normal function of insulin and glucose metabolism. Interest in this trace mineral grew after studies showed that a deficiency in chromium was related to blood sugar imbalances. Chromium also appears to stimulate lipid metabolism and support healthy blood lipid and cholesterol levels in individuals with low body stores of this mineral. A deficiency may be caused by low dietary intakes, physical trauma, pregnancy and breast feeding, acute exercise and infection. Under normal conditions, the body's requirement for chromium is quite low. Supplementation may however provide additional benefits such as metabolic and cardiovascular support. The absorption of chromium is naturally low and may be enhanced by taking Vitamin C alongside it. Chromium is found in low levels in most foods. Brewer's yeast, meats, whole grain products, fruits, vegetables and spices are all natural sources of chromium.
Hi-Dose Chromium Recommended Adult Dosage:

Take 1 capsule daily.
Active Ingredients in each gelatin capsule:
Chromium (from chromiumamino 1000 acid chelate)

Also contains: tapioca.
No added: gluten, dairy, yeast, sugar, artificial colours, flavours or preservatives.
Pregnancy and breast feeding: Clinicians Hi-Dose Chromium is considered safe to use during these times under health professional supervision to ensure appropriate dosing.
Clinicians products support rather than compete with modern medicines. As medicines can deplete nutrients in the body, it was important to develop nutritional products that replenish the nutrients lost. Clinicians products, if taken on a regular basis, can also reduce the dependency on modern medicines.
Back in 1997, two pharmacists - Mike Cushman and Denis Kay - came to realise that the current pharmaceutical model was limited. Simply put, it couldn't provide the total answer to delivering wellness for their customers. Mike and Denis researched general and specific conditions to understand key drivers that triggered the imbalances that caused specific conditions. Along with this they researched the impact of modern medicines on body processes and their contribution to these imbalances.
And the result? The Clinicians product range of nutritional support. The product range developed includes not only general vitamin and mineral supplements, but also products for specific conditions and now a Works With Medicine range.