Clinicians LiverProtect Plus 60 capsules
Clinicians LiverProtect Plus is a botanical and mineral based formula to support liver health, liver protection, liver detoxification and antioxidant protection.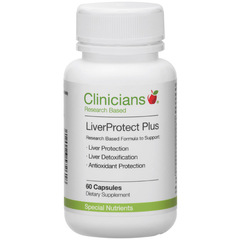 Specials are for online purchases only, don't miss out! -
Email
us to check for availability.
LiverProtect Plus Benefits


Doubles up as a daily supplement for liver health and also serves as a comprehensive liver detox formula (dose dependant)

Convenient to use

Cost effective

Synergistic formula to support liver regeneration and detoxification

High quality herbs

Supports the body's own production of antioxidant enzymes to support liver function and free radical damage

LiverProtect Plus Features
Two in one formula

Contains five key scientifically validated herbs

Contains standardised herbs where possible

Includes trace minerals copper, zinc, manganese, selenium and molybdenum

For Liver detoxification:
Start with one capsule daily and increase slowly up to 3 capsules daily, to avoid detoxifying faster than the body can comfortably eliminate toxins. Symptoms of detoxifying too fast include feeling "off colour" or nauseous or bilious.
Recommended Dose:

Adult: For Liver support and maintenance: take 1 capsule in the morning with food.

Adult: For short term Liver Detoxification: Gradually increase to 1 capsule 2-3 times daily with food, for 2-3 weeks.
Active Ingredients in each gelatin capsule:
Silybum marianum (Milk thistle) ext. equiv to dry seed [standardised to not less than silymarin 112mg]

Schisandra chinensis (Schisandra) ext. equiv to dry fruit [standardised to not less than schizandrol A 2.8mg]

Cynara scolymus (Artichoke) ext. equiv to dry leaf [standardised to cafeoylquinic acids 7mg]

Taraxacum officinale (Dandelion) ext. equiv to dry root

Curcumin

Copper gluconate (equiv copper 0.5mg)

Manganese amino acid chelate (equiv manganese 1mg)

Molybdenum trioxide (equiv molybdenum 50mcg)

L- selenomethionine (equiv selenium 50mcg)

Zinc amino acid chelate (equiv zinc 5mg)


Also contains: magnesium stearate, silicon dioxide, gelatin
No added: gluten, dairy, yeast, sugar, artificial colours or preservatives.
Exercise caution with individuals with a known allergy to plants from the Compositae family (e.g. ragweed, daisy, Echinacea, chamomile and chrysanthemums) as milk thistle, globe artichoke and dandelion are all from this family.

The herbs in LiverProtect Plus are well tolerated at the dose recommended. A mild laxative effect may occur in some individuals based on the Milk Thistle content.

Pregnancy and Breastfeeding: Avoid during pregnancy due to the Schissandra content.
Clinicians products support rather than compete with modern medicines. As medicines can deplete nutrients in the body, it was important to develop nutritional products that replenish the nutrients lost. Clinicians products, if taken on a regular basis, can also reduce the dependency on modern medicines.
Back in 1997, two pharmacists - Mike Cushman and Denis Kay - came to realise that the current pharmaceutical model was limited. Simply put, it couldn't provide the total answer to delivering wellness for their customers. Mike and Denis researched general and specific conditions to understand key drivers that triggered the imbalances that caused specific conditions. Along with this they researched the impact of modern medicines on body processes and their contribution to these imbalances.
And the result? The Clinicians product range of nutritional support. The product range developed includes not only general vitamin and mineral supplements, but also products for specific conditions and now a Works With Medicine range.