Clinicians MACA Performance Plus 60 capsules
Clinicians MACA Performance Plus is derived from an organic herb native to Peru that has traditionally been used to support stamina, energy, sexual performance and fertility. During the Inca Empire, its use was restricted to nobility, the clergy and privileged classes. It was also given as a prize to warriors.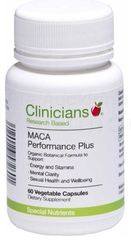 Specials are for online purchases only, don't miss out! -
Email
us to check for availability.
MACA Performance Plus Benefits


Contains an edible root vegetable MACA which has been proven to support sexuality, fertility, and endurance

Supports sperm health

Acts as a natural energiser

Support in time of stress or increased work load

Helps maintain normal function during and after menopause

May support healthy levels of progesterone in women

Has been used by men as a natural replacement to steroids

MACA Performance Plus Features
Contains organic MACA which is free from pesticides and herbicides

Rich in nutrients including protein, vitamins and minerals

Derived from farms 14,000 feet above in the Peruvian Andes

No known side effects
Recommended Dose:

Adults: 1 capsule 3 times daily.

According to clinical research benefits may take up to 2 months to occur
Each vegetable capsule contains:
Organic MACA
(Peruvian Ginseng [Lepidium peruvianum Chacon]) root
Also Contains: magnesium stearate and microcrystalline cellulose.
No added: gluten, dairy, yeast, sugar, artificial colours, sweeteners, flavours or preservatives.
Free of GMO Ingredients. Suitable for vegetarians.

MACA has been used for thousands of years by Peruvian's as a nutritious root vegetable at doses of more than 100 grams per day. Clinical trials show that MACA is safe to take and free from any unwanted side effects at dosages of up to 3,000mg per day.

Pregnancy and Breastfeeding: Avoid during pregnancy and breastfeeding, due to lack of safety data.
Clinicians products support rather than compete with modern medicines. As medicines can deplete nutrients in the body, it was important to develop nutritional products that replenish the nutrients lost. Clinicians products, if taken on a regular basis, can also reduce the dependency on modern medicines.
Back in 1997, two pharmacists - Mike Cushman and Denis Kay - came to realise that the current pharmaceutical model was limited. Simply put, it couldn't provide the total answer to delivering wellness for their customers. Mike and Denis researched general and specific conditions to understand key drivers that triggered the imbalances that caused specific conditions. Along with this they researched the impact of modern medicines on body processes and their contribution to these imbalances.
And the result? The Clinicians product range of nutritional support. The product range developed includes not only general vitamin and mineral supplements, but also products for specific conditions and now a Works With Medicine range.