Clinicians Magnesium (125mg) 180 capsules
Clinicians Magnesium capsules contain a Magnesium complex designed to support cardiovascular, immune, hormonal and muscular-skeletal health. Magnesium is a mineral needed by every cell in the body. Magnesium also supports muscle tone and relaxation, healthy blood pressure and sleep.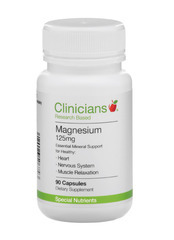 Specials are for online purchases only, don't miss out! -
Email
us to check for availability.
Magnesium Benefits

Supports health of the cardiovascular system as it supports blood vessel tone and healthy blood pressure
Supports muscular and skeletal health
Magnesium is essential for healthy cellular energy production. This form of magnesium can pass rapidly pass through the cell to become an active part in the cell's metabolic function
Provides essential nervous system support and assists with relaxation and sleep
Magnesium Features
Highly bioavailable form of magnesium with excellent absorption
Fast-acting
Broad spectrum of action
Suitable for all age groups and during pregnancy and breastfeeding
Magnesium is a mineral essential for the overall functioning of the body as it is involved in many biological processes. The first signs of low magnesium levels are muscle twitches (such as the classical eyelid twitch) or general muscle tightness, and fatigue.
Magnesium aspartate is a form of magnesium bound or "chelated" to an amino acid for rapid absorption and utilization in the body. Magnesium aspartate has the advantage that both parts (magnesium and aspartic acid) are involved in the Krebs's cycle a key process in the production of cellular energy in the body. Energy is essential for every biological process that occurs in the body. Without sufficient energy cellular function slows down and waste products can build up inside the cells further contributing to muscle tightness, and fatigue.
Magnesium supplementation has been shown to improve cellular energy production and support muscle relaxation. Magnesium may be supportive in conditions associated with fatigue syndromes and muscle tension, tension in the head, the pre-menstrual period, and tiredness.
Magnesium needs to be balanced with calcium as they are both minerals essential for many biological processes in the body, calcium for muscle contraction and magnesium for muscle relaxation. They are known as the body's relaxant minerals, calcium is needed for sleep onset and magnesium for sleep maintenance, together they help to calm and relax the mind, body and nerves.
If you are on cardiovascular, diuretic and blood pressure medication you may benefit from magnesium supplementation to support cellular energy production and to help relax blood vessels. If you are interested in Clinicians Magnesium you may also wish to take the following Clinicians products alongside: REM Sleep (Supporting healthy sleep patterns), Coenzyme Q10 or CardioCare (for heart heath and energy). Clinicians BoneCare Complete (for bone health and support) and PMS Care (hormonal and emotional support).
Recommended Adult Dosage:
Adults: 1 to 3 capsules daily or as directed. Take in divided doses, between meals or at bedtime.
Children (12 years and younger) - Half the adult dose is recommended.
Active Ingredients in each gelatin capsule:
Magnesium (from magnesium aspartate complex)
Also contains: magnesium stearate
No added: gluten, dairy, yeast, sugar, artificial colours or preservatives.
High doses of magnesium may loosen the bowel i.e. (doses exceeding 500mg daily). If uncomfortable, reduce the dose until bowel movements stabilize or spread the dose out during the day. The threshold dose at which this occurs may vary amongst individuals.
Pregnancy & Breastfeeding: Clinicians Magnesium is well tolerated and considered safe to use during these times, use under health professional supervision to ensure appropriate dosing.