Clinicians Mega Joint Ease 90 capsules
Clinicians Mega Joint Ease provides research based doses of glucosamine and chondroitin to help support the structure, function and integrity of tendons, ligaments, joints, cartilage and joint fluid.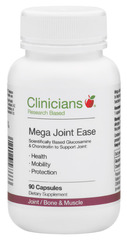 Specials are for online purchases only, don't miss out! -
Email
us to check for availability.
Mega Joint Ease Benefits

Supports joint health naturally and is easy on the stomach
Supports the structure, function and integrity of tendons, ligaments, joints, cartilage and synovial fluid
Mega Joint Ease Features
New improved formula
Daily dosing is aligned with the latest scientific research
Can be used alongside conventional medications
Well tolerated for long term use
Poor joint mobility and stiffness is thought to affect 12% of the population. The areas of the body where this is most likely to occur is in the knees, hips, fingers, and wrists and can be caused by wear and tear on the cartilage (a cushioning material found at the ends of bones which enable free movement of the joint). This joint wear could be a result of trauma (injury or overuse), dietary practises, or age-related breakdown and deformity (developmental or genetic). Although the cartilage is not well supplied with blood and lymph vessels and nerve fibres, it does have the ability to repair and replenish itself if vital nutrients are made available through diet and supplementation.
Glucosamine is formed naturally by the body as Glucosamine-6-phosphate, a combination of the amino acid glutamine and the sugar glucose. It is a building block for cell membranes, cell surface proteins and interstitial structural molecules that hold cells together and is found primarily in cartilage (the cushioning material at the end of bones). Directly or indirectly Glucosamine plays a role in the formulation of articular surfaces, tendons, ligaments and synovial fluid.
Chondroitin supports proteoglycan production (proteoglycans are the special protein molecules contained within joint cartilage that provide flexibility and resistance to compression), making it a vital component to help support the structure and functional integrity of the joints. Both glucosamine and chondroitin are slow acting substances and need to be taken long term to help with joint health. Clinicians Mega Joint Ease may be used alongside Clinicians Omega-3 Fish Oil, Krill Oil 500 and InflamEase (was MSM Flamm) to support joint health.
Recommended Dose:
Adult: Take 1 capsule 3 times daily with food (or 3 capsules once a day if preferred). Well suited and well tolerated for long term use.
Active Ingredients in each gelatin capsule:
Chondroitin Sulfate Sodium (from bovine cartilage)
Glucosamine Sulfate Potassium Chloride (from shrimp/crabshell)

Contains: Potassium content (from glucosamine sulfate KCl): 194mg, Sodium content (from chondroitin sulfate sodium): 74 mg. This product contains crustacean and BSE-FREE bovine products.
Clinicians Complete Joint Ease is derived from seafood, do not use in individuals with fish/crustacean allergies.

Clinicians Complete Joint Ease contains potassium, if you have kidney disease or are taking heart or blood pressure medications; consult your health professional before use.

Pregnancy and Breast Feeding; Due to lack of available research on glucosamine and chondroitin supplementation during pregnancy or breastfeeding; do not use Clinicians Mega Joint Ease during these times.
Clinicians products support rather than compete with modern medicines. As medicines can deplete nutrients in the body, it was important to develop nutritional products that replenish the nutrients lost. Clinicians products, if taken on a regular basis, can also reduce the dependency on modern medicines.
Back in 1997, two pharmacists - Mike Cushman and Denis Kay - came to realise that the current pharmaceutical model was limited. Simply put, it couldn't provide the total answer to delivering wellness for their customers. Mike and Denis researched general and specific conditions to understand key drivers that triggered the imbalances that caused specific conditions. Along with this they researched the impact of modern medicines on body processes and their contribution to these imbalances.
And the result? The Clinicians product range of nutritional support. The product range developed includes not only general vitamin and mineral supplements, but also products for specific conditions and now a Works With Medicine range.