Clinicians Menopause Balance 30 tablets
Clinicians Menopause Balance is a scientifically validated herbal formula to support women's hormonal health through the menopausal transition, including hormonal balance, temperature and mood balance, sleep, energy and vitality.
NEW One-a-day tablet providing a unique combination of herbs to support women through menopause.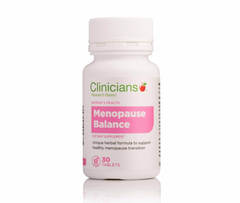 Specials are for online purchases only, don't miss out! -
Email
us to check for availability.
Menopause Balance Benefits

Supports healthy menopausal transition
Supports emotional balance and mental clarity during menopause
Supports normal temperature balance during menopause
Supports relaxing sleep during menopause
Menopause Balance is a 1-a-day, research-based formula to support women for a smoother transition through menopause. It contains key herbs which target key areas of the body and mind that require support before, during and after the "Change of Life".
The combination of red clover and chaste tree provide support to balance out declining hormone levels during menopause. Red clover supplies a plant-like oestrogen (phytoestrogen) and chaste tree works with the master hormone gland (pituitary). Together they support normal temperature balance, a smooth menopause transition, vaginal health and healthy sleep patterns.
During menopause the adrenal glands are called upon to supply a replacement hormone similar to oestrogen. The herbs bacopa and rhodiola support the adrenal glands in producing this hormone and provide support for healthy libido levels, mood, energy, mental focus and clarity.
​
Recommended Dose:
Use 1 tablet daily with food.
Each tablet contains:
Ingredients Amount Units
Trifolium pratense (red clover) ext. equiv dry flower (isoflavones, standardised to 80 mg) 10,000 mg
Bacopa monnieri (brahmi) plant ext. equiv dry herb (total Bacosides A & B standardised to 60 mg) 6000 mg
Rhodiola rosea (rhodiola) root ext. equiv dry root (rosavins standardised to 10.2 mg: salidrosides, standardised to 3.4 mg) 4080 mg
Vitex agnus castus (Chaste tree) fruit ext. equiv to dry fruit 100 mg
Also contains: Tabletting aids.
No Added: Sugar, artificial colours, sweeteners, flavours or preservatives.
Clinicians products support rather than compete with modern medicines. As medicines can deplete nutrients in the body, it was important to develop nutritional products that replenish the nutrients lost. Clinicians products, if taken on a regular basis, can also reduce the dependency on modern medicines.
Back in 1997, two pharmacists - Mike Cushman and Denis Kay - came to realise that the current pharmaceutical model was limited. Simply put, it couldn't provide the total answer to delivering wellness for their customers. Mike and Denis researched general and specific conditions to understand key drivers that triggered the imbalances that caused specific conditions. Along with this they researched the impact of modern medicines on body processes and their contribution to these imbalances.
And the result? The Clinicians product range of nutritional support. The product range developed includes not only general vitamin and mineral supplements, but also products for specific conditions and now a Works With Medicine range.