Clinicians MigraDol 60 capsules
Clinicians MigraDol provides support for tension headaches, healthy circulation and blood vessel health. It is suitable for immediate and long term use and can be safely used alongside conventional medication.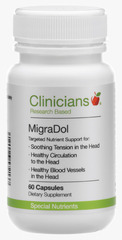 Specials are for online purchases only, don't miss out! -
Email
us to check for availability.
MigraDol Benefits

Helps to soothe tension in the head
Is suitable for immediate and long term use if needed
Vitamin B2 (riboflavin) may assist with energy production to support blood vessel health in the head. Research has also shown that vitamin B2 may help reduce duration and frequency.
Contains magnesium to help support energy production, circulation and blood vessel health.
Low magnesium levels are associated with increased tissue irritability which may promote smooth muscle contraction or spasm.
Low magnesium may also adversely affects the body's ability to carry oxygen in the blood.

MigraDol Features
Targeted nutrient support: Magnesium and vitamin B2 work synergistically together
Can be used long term with no apparent loss of effect
Can be used alongside conventional medication
Safe and well tolerated

Poor dietary and lifestyle choices combined with high stress levels and poor quality sleep may be underlying factors that may contribute to the onset and severity of tension headaches.

Research has shown that dietary triggers may be responsible for up to 44% of tension headaches. Foods most frequently associated include caffeine, alcohol, aged cheeses, dairy products such as ice cream, citrus fruits, nuts, chocolate and processed meats

Addressing dietary triggers, reducing stress levels and aiming for a better work life balance alongside targeted nutrient support to soothe tension in the head and support blood vessel health may be beneficial for regular sufferers of tension headaches.

Clinicians MigraDol can also be taken alongside Omega-3 Fish Oil or Krill Oil 500 to help support tension headaches. Also consider taking Clinicians 5-HTP Mood Care alongside Clinicians MigraDol to support mood and neurotransmitter production. Clinicians Coenzyme Q10 may also be beneficial to support energy production.

Response to therapy with Clinicians MigraDol may vary between individuals with some individuals noticing a response within 1 month, with maximal effects occurring after 3 months. In women suffering from menstrual migraines, magnesium supplementation may also need to be used for at least three months.
Recommended Dose:

Adult: 3 capsules daily with food, either together or in divided doses
Active Ingredients in each gelatin capsule:
Vitamin B2 (as riboflavin)
Magnesium (from magnesium aspartate complex)

Also contains: magnesium stearate and silicon dioxide
No Added: gluten, dairy, yeast, sugar, artificial colours or preservatives
Clinicians MigraDol contains vitamin B2 which causes a harmless change in urine colour to intense yellow. This effect disappears within 24 hours of stopping vitamin B2 supplementation.

High doses of magnesium may loosen the bowel i.e. (doses exceeding 500mg daily). If uncomfortable, reduce the dose until bowel movements stabilize or spread the dose out during the day. The threshold dose at which this occurs may vary amongst individuals. High dose vitamin B2 may occasionally result in transient diarrhoea and frequent urination, if this occurs lower the dose.

Pregnancy & Breastfeeding: Clinicians MigraDol is well tolerated and considered safe to use during these times, use under health professional supervision to ensure appropriate dosing.
Clinicians products support rather than compete with modern medicines. As medicines can deplete nutrients in the body, it was important to develop nutritional products that replenish the nutrients lost. Clinicians products, if taken on a regular basis, can also reduce the dependency on modern medicines.
Back in 1997, two pharmacists - Mike Cushman and Denis Kay - came to realise that the current pharmaceutical model was limited. Simply put, it couldn't provide the total answer to delivering wellness for their customers. Mike and Denis researched general and specific conditions to understand key drivers that triggered the imbalances that caused specific conditions. Along with this they researched the impact of modern medicines on body processes and their contribution to these imbalances.
And the result? The Clinicians product range of nutritional support. The product range developed includes not only general vitamin and mineral supplements, but also products for specific conditions and now a Works With Medicine range.