Clinicians MultiFlora Digest 30 capsules
Clinicians MultiFlora Digest contains two of the most studied and scientifically researched probiotics in the world. It supports healthy gastrointestinal function (stomach and bowel health), offers immune support and is an ideal everyday probiotic for general health and well being. This is a shelf stable product ideal for travelling and ease of use.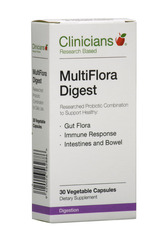 Specials are for online purchases only, don't miss out! -
Email
us to check for availability.
MultiFlora Digest Benefits

Ideal everyday probiotic to maintain healthy gut flora, gastrointestinal function, immune support and general health and wellbeing
Also ideal for those who are recovering from illness and want to enhance immunity, also those who have poor diets, are highly stressed and anyone interested in optimal health. Also for those of you who are travelling
Contains 2 of the most studied and scientifically researched probiotics in the world, namely Lactobacillus rhamnosus GG and Bifidobacterium animalis BB-12
Capsule technology allows the probiotics to survive stomach acid intact to populate the small intestine and bowel where they are utilized
Can be taken alongside antibiotics, but at a different time of day, to protect against diarrhoea. Take MulltiFlora at least 3 hours away from antibiotics, or last thing at night for best results
Multiflora Digest Features
Vege caps make it suitable for vegetarians
GMP standards guarantee quality
Does not need to be refrigerated so ideal for taking on holidays in case of tummy troubles
Suitable for all age groups, so one product for the whole family
Probiotic micro-organisms, also referred to as "probiotic flora" are a group of beneficial bacteria that colonise our digestive tract. The body has evolved a symbiotic relationship with these bacteria. This means that our digestive tract provides a safe terrain and nutrients for their growth while they assist us in various digestive processes and in the manufacture of B group vitamins.
Without these friendly bacteria, harmful bacteria may get the opportunity to grow and cause problems. An imbalance of friendly bacteria can occur for many reasons such as an upset stomach, food poisoning, diarrhoea, antibiotic treatment, poor dietary practise, aging and stress. An imbalance of good flora is also known as "dysbiosis". If dysbiosis goes on for long enough, it could lead to more serious problems like "leaky gut syndrome" or increased intestinal permeability.
Several chronic diseases are related to this such as rheumatoid arthritis and allergies. An imbalance of intestinal flora can also result in chronic yeast overgrowth in the digestive and genital tracts. Other symptoms of chronic dysbiosis include indigestion, heartburn, thrush, bad breath and flatulence. Dysbiosis may also be associated with a decrease in digestive enzyme production, which may produce similar symptoms.
Restoring the balance of beneficial flora, can be accomplished in several ways:
Diet: Non-heat treated yogurt is a good source of probiotic flora. Ideally the yogurt should contain 100 000 viable cells per gram.
Liver Detoxification and Bowel Cleanse: This is recommended for individuals who have experienced symptoms of chronic dysbiosis.
Following a detox and bowel cleanse, a high potency probiotic flora replacement like Clinicians MultiFlora is recommended. Clinicians MultiFlora is a rapid and effective way to replace beneficial probiotic flora. It contains two of the most studied and scientifically researched strains in the world which are stomach and bile acid resistant.
Recommended Dose:
Adults (12 years or older): Take 1 capsule once or twice daily with food.
Children (3 years and over): Take 1/2 to 1 capsule daily with food. For young children, capsules should be opened and the contents mixed with fluid or sprinkled on food.
Do not reheat. If taking antibiotics, take at least 3 hours before or after each dose.
Additional Information: Infants 1 month to 3 years: Consult your health professional before administering to this age group. Premature neonates and infants 1 month to 3 years of age have tolerated 4.8 billion CFU/day of Bifidobacterium animalis BB-12 and at least 10 billion CFU/day of Lactobacillus rhamnosus GG. Our recommended dose would therefore be to take half the contents of one capsule and mix with breast milk, infant formula, milk or water and drink once daily.
Active Ingredients now showing per vegetable capsule:
Total probiotic bacteria No less than 7 billion CFU
Lactobacillus rhamnosus GG™
Bifidobacterium animalis BB-12™

CFU = Colony Forming Units, at the time of manufacture
Also contains: maltodextrin, microcrystalline cellulose, silicon dioxide and magnesium stearate. May contain traces of milk products.
No added: gluten (or wheat), artificial colours, sweeteners, flavours or preservatives.
Clinicians MultiFlora Digest may contain traces of lactose. Individuals with severe IgE mediated dairy allergies should avoid taking Clinicians MultiFlora Digest or consult their health professional first. Studies show Bifidobacterium animalis BB-12 exhibits lactase activity and can help assist with lactose digestion. Clinicians MultiFlora Digest should be suitable for lactose intolerant individuals.

Consult your health professional before using Clinicians MultiFlora with the following treatments and/or conditions: radiation therapy, recent oral or gastrointestinal surgery and those who are immuno-suppressed (e.g. HIV) or on immunosuppressant medications.
Clinicians products support rather than compete with modern medicines. As medicines can deplete nutrients in the body, it was important to develop nutritional products that replenish the nutrients lost. Clinicians products, if taken on a regular basis, can also reduce the dependency on modern medicines.
Back in 1997, two pharmacists - Mike Cushman and Denis Kay - came to realise that the current pharmaceutical model was limited. Simply put, it couldn't provide the total answer to delivering wellness for their customers. Mike and Denis researched general and specific conditions to understand key drivers that triggered the imbalances that caused specific conditions. Along with this they researched the impact of modern medicines on body processes and their contribution to these imbalances.
And the result? The Clinicians product range of nutritional support. The product range developed includes not only general vitamin and mineral supplements, but also products for specific conditions and now a Works With Medicine range.