Clinicians Multivitamin & Mineral Boost Capsule 90 capsules
Clinicians MultiVitamin & Mineral Boost is a boost of nutrients suitable for the whole family to support vitality, energy and well-being on a daily basis. Replaces essential nutrients especially those known to be deficient in New Zealand diets.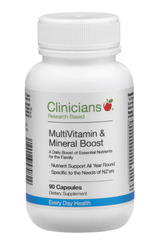 Specials are for online purchases only, don't miss out! -
Email
us to check for availability.
MultiVitamin & Mineral Boost Benefits
Take MultiVitamin & Mineral Boost for general health and wellbeing, vitality and energy support
Replaces essential nutrients known to be deficient in New Zealand diets
Cofactors support cellular energy production and circulation
Minerals are present in a form which can be rapidly absorbed and transported to target areas where they are most needed in the body.
Cofactors such as Coenzyme Q10, Vitamin B3 and other minerals support cellular energy production and circulation
Citrus bioflavonoids assist with Vitamin C absorption and support blood vessel health and circulation
MultiVitamin & Mineral Boost Features
A multi vitamin & mineral suitable for the whole family
Providing nutritional support to fill dietary gaps all year round
Both capsule and powder formats
Easy flexible dosing and delivery formats
Especially formulated to address nutrient deficiencies associated with New Zealand diets
Pleasant tasting
Recommended Dosage
Adults: 1 to 2 capsules twice daily
Children 6 to 12 years: 1 to 2 capsules daily with food
Children 1 to 5 years: 1 capsule daily (contents of capsule to be mixed with fluid or sprinkled on food). Alternatively use Clinicians MultiVitamin & Mineral Boost Powder, Instead of capsules, for Children.
Active Ingredients
Ingredients now showing per capsule
Vitamin A (from retinol acetate) (250 IU) 75 mcg
Vitamin B1 (from thiamine hydrochloride) 2.5 mg
Vitamin B2 (riboflavin) 2.5 mg
Vitamin B3 (nicotinamide)12.5 mg
Vitamin B5 (from calcium pantothenate) 10 mg
Vitamin B6 (from pyridoxine hydrochloride) 5 mg
Vitamin B12 (as cyanocobalamin) 6.2 mcg
Vitamin C (ascorbic acid) 62.5 mg
Vitamin C (calcium ascorbate) 62.5 mg
Vitamin D3 (as cholecalciferol) 2.5 mcg
Vitamin E (from d-alpha-tocopheryl acetate) 25 mg
Betaine (from betaine hydrochloride) 12.5 mg
Biotin 12.5 mcg
Boron (from boron citrate) 250 mcg
Calcium (from calcium lactate)25 mg
Choline (from choline bitartrate) 6.2 mg
Chromium (from chromium amino acid chelate) 25 mcg
Citric Acid 50 mg
Citrus Bioflavonoid Complex 50 mg
Co-enzyme Q10 1.2 mg
Copper (from copper gluconate) 125 mcg
Folic Acid 37.5 mcg
Inositol 6.2 mg
Iodine (from potassium iodide) 25 mcg
Iron (from ferrous fumarate) 250 mcg
L-Glutamine 6.2 mg
Magnesium (from magnesium carbonate) 12.5 mg
Manganese (from manganese amino acid chelate) 0.5 mg
Molybdenum (from molybdenum amino acid chelate) 12.5 mcg
PABA (para amino benzoic acid) 3.7 mg
Potassium (from potassium citrate) 5 mg
Selenium (from selenium amino acid chelate) 18.7 mcg
Zinc (from zinc amino acid chelate) 1.9 mg
Also contains: maltodextrin, stevia , xanthan gum and natural flavouring. Total calcium 133mg.
No added: dairy, gluten, yeast, artificial colours or preservatives.
Contraindications & Cautions

Pregnancy & Breastfeeding: This product contains vitamin A, at a daily dose that is considered to be a safe level for pregnant women. A woman needs a different balance of nutrients during this time so If you are pregnant or planning to become pregnant, consult your health professional before taking this or any other supplement
Clinicians products support rather than compete with modern medicines. As medicines can deplete nutrients in the body, it was important to develop nutritional products that replenish the nutrients lost. Clinicians products, if taken on a regular basis, can also reduce the dependency on modern medicines.
Back in 1997, two pharmacists - Mike Cushman and Denis Kay - came to realise that the current pharmaceutical model was limited. Simply put, it couldn't provide the total answer to delivering wellness for their customers. Mike and Denis researched general and specific conditions to understand key drivers that triggered the imbalances that caused specific conditions. Along with this they researched the impact of modern medicines on body processes and their contribution to these imbalances.
And the result? The Clinicians product range of nutritional support. The product range developed includes not only general vitamin and mineral supplements, but also products for specific conditions and now a Works With Medicine range.