Clinicians Peak Performance Women's Multi 60 capsules
Clinicians PeakPerformance Women's Multi provides an everyday boost of essential nutrients for optimal peak performance for women of all ages. With high dose B-group vitamins to help to lift energy and balance life's stresses and antioxidants for healthy ageing and immune support.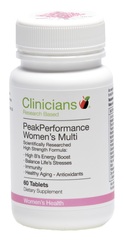 Specials are for online purchases only, don't miss out! -
Email
us to check for availability.
PeakPerformance Women's Multi Benefits

Supports energy pathways in the body, helps support the body during stress and helps maintain healthy skin and connective tissue
Antioxidants play a protective role in the body, by reducing potential damage and cell changes from harmful free radical molecules
Antioxidants also help maintain healthy connective tissue and enhance immune function
All nutrients are included at levels statistically shown to have health benefits. The PeakPerformance Multi contains Selenium, Iodine and Zinc, all known to be deficient in NZ soils. It also contains Vitamin D (Vitamin D deficiency is common in NZ).
Only one tablet daily, to improve nutrient status
Companions well with other supplements as needed

PeakPerformance Women's Multi Features
Contains high dose B-group vitamins
Contains antioxidant nutrients, Vitamin C, Bioflavonoids, Selenium, Zinc and Curcumin
Provides therapeutic doses of vitamins and minerals designed for New Zealanders
Provides daily nutritional insurance
Contains Curcuma Longa (Tumeric) supporting healthy ageing, heart health, gastrointestinal tract and the liver

For general wellbeing and optimal health it is important to follow some basic lifestyle guidelines. Drink at least 8 glasses of clean water per day to keep the body hydrated and flushed. Maintain a diet rich in different coloured fresh fruit and vegetables to increase vitamin, mineral and antioxidant levels. Consume lean protein and essential fatty acids and avoid heavily processed foods such (i.e. high in sugar, white flour and or fat) as these can deplete the body of nutrients. For a healthy eating plan visit www.slimwaist.co.nz

Sleep well and exercise regularly, this provides the body with a better sense of wellbeing through the release of feel good chemicals called endorphins. It also increases oxygen uptake in the body, maintains muscle mass and strengthens bones.

Clinicians PeakPerformance Women's Multi may be safely companioned with any of the following products; Clinicians Omega-3 Fish Oil or Clinicians Krill Oil with NZ Salmon for everyday health and wellbeing and to support joint and heart health, mental clarity and mood. Clinicians Sunshine Vitamin D3 for additional heart and bone health and immune support or Clinicians Stress & Energy Support if ongoing stress or increased workload are taking their toll. If stress levels are impacting on libido consider Clinicians MACA Performance Plus as a natural energiser.
Recommended Dose:

Adults: 1 tablet daily
Active Ingredients in each tablet:
Curcuma longa (Turmeric) ext equiv to dry root (stand.to curcuminoids 40mg)
Citrus Bioflavanoids
Thiamin hydrochloride (Vitamin B1 50mg)
Riboflavin (Vitamin B2)
Nicotinamide (Vitamin B3)
Calcium Pantothenate (Vitamin B5 50 mg)
Pyridoxine hydrochloride (Vitamin B6 50mg)
Cyanocobalamin (Vitamin B12)
Ascorbic acid (Vitamin C)
Cholecalciferol (Vitamin D3 600IU)
Folic acid
Biotin
Zinc amino acid chelate (Zinc 10mg)
Selenomethionine (Selenium 26mcg)
Potassium iodide (Iodide 150mcg)

Also contains: Tabletting aids. Suitable for vegetarians.
No added: gluten, dairy, yeast, artificial colours, sweeteners, flavours or preservatives.
PeakPerformance Womens' Multi is considered safe and well tolerated at the dose recommended. Exercise caution in individuals with gall bladder dysfunction as curcumin may cause gallbladder contractions similar to those experienced with a fatty meal.

Pregnancy and Breastfeeding: Clinicians PeakPerformance Womens' Multi may be taken, but Clinicians PregaVit is the product of choice during pregnancy and while breastfeeding to meet the daily needs of both mother and her developing baby
Clinicians products support rather than compete with modern medicines. As medicines can deplete nutrients in the body, it was important to develop nutritional products that replenish the nutrients lost. Clinicians products, if taken on a regular basis, can also reduce the dependency on modern medicines.
Back in 1997, two pharmacists - Mike Cushman and Denis Kay - came to realise that the current pharmaceutical model was limited. Simply put, it couldn't provide the total answer to delivering wellness for their customers. Mike and Denis researched general and specific conditions to understand key drivers that triggered the imbalances that caused specific conditions. Along with this they researched the impact of modern medicines on body processes and their contribution to these imbalances.
And the result? The Clinicians product range of nutritional support. The product range developed includes not only general vitamin and mineral supplements, but also products for specific conditions and now a Works With Medicine range.