Clinicians PMT Cycle Balance 30 vegeCaps
PMT Cycle Balance provides a powerful natural approach to support healthy hormones, balanced mood and healthy fluid balance through supplying the body with needed vitamins and minerals as well as well-researched herbs. It also supports body organs involved in healthy cycles such as the liver and the pituitary.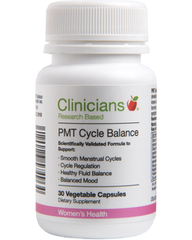 Specials are for online purchases only, don't miss out! -
Email
us to check for availability.
PMT Cycle Balance Benefits
Vitex supports regular cycles, pre-menstrual balance and muscle relaxation
Milk Thistle supports oestrogen balance
Withania helps to balance out stress-induced hormonal changes
Ginkgo supports healthy blood flow to and from the menstrual area
Supports the nervous system and the body's ability to cope with stress
Supports healthy liver function and has anti-oxidant and uterine muscle relaxing properties
PMT Cycle Balance Features
Contains Chaste Tree, Withania, Milk Thistle and Ginkgo
Research based formula
Can be taken while on the oral contraceptive pill
It is safe to use together with conventional medicines
Effectiveness does not wear off even when used long term
Recommended Dose:
Adult: 1 capsule daily or as directed
Suitable for vegeterians
Each vegetable capsule contains:
Ingredients
Strength
Unit
Silybum marianum (milk thistle) seed ext. equiv. to dry seed (standardised to 80 mg silymarin)
7000
mg
Ginkgo biloba (gingko) leaf ext. equiv. to dry leaf
6000
mg
(standardised to 29mg gingko flavanoids)
Withania somnifera (Indian ginseng) root ext. equiv. to dry root (standardised to 1.2 mg withanolides)
2000
mg
Vitex agnus castus (chaste tree) fruit ext. equiv. to dry fruit
200
mg
Magnesium citrate complex
(equiv. Magnesium 50 mg)
250
mg
Pyridoxine hydrochloride (Vitamin B6 50 mg)
63
mg
Zinc amino acid chelate complex
(equiv. Zinc 10 mg)
50
mg
Also contains: magnesium stearate & silicone dioxide
No added: gluten, dairy, yeast, sugar, artificial colours, sweeteners, flavours or preservatives.
Precautions & Contraindications
· Clinicians PMT Cycle Balance is best not taken in conjunction with progesterone drugs and hormone replacement therapy due to the chaste tree content. However, chaste tree in low doses is considered safe when used in conjunction with the oral contraceptive pill.
· Due to ginkgo content, individuals about to undergo surgery are advised to stop taking Clinicians PMT Cycle Balance 5-7 days prior to surgery due to a possible risk of increased bleeding during or after surgery.
Side Effects
Clinicians PMT Cycle Balance is generally considered well tolerated with no adverse effects expected at the dose recommended. Chaste tree has been associated with an itchy rash, however this side effect is considered rare.
Pregnancy & Breastfeeding
Suitable in pre-conception, but discontinue when pregnant.
TAPS CH4895
Clinicians products support rather than compete with modern medicines. As medicines can deplete nutrients in the body, it was important to develop nutritional products that replenish the nutrients lost. Clinicians products, if taken on a regular basis, can also reduce the dependency on modern medicines.
Back in 1997, two pharmacists - Mike Cushman and Denis Kay - came to realise that the current pharmaceutical model was limited. Simply put, it couldn't provide the total answer to delivering wellness for their customers. Mike and Denis researched general and specific conditions to understand key drivers that triggered the imbalances that caused specific conditions. Along with this they researched the impact of modern medicines on body processes and their contribution to these imbalances.
And the result? The Clinicians product range of nutritional support. The product range developed includes not only general vitamin and mineral supplements, but also products for specific conditions and now a Works With Medicine range.