Clinicians ProFlam Throat Spray 20ml
Clinicians ProFlam™ throat spray contains a powerful and synergistic combination of herbs specially formulated to provide soothing immune support for throat health. The mucoadhesive spray is designed for enhanced localized action and targeted symptomatic support.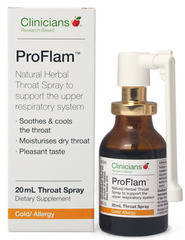 Specials are for online purchases only, don't miss out! -
Email
us to check for availability.
Natural Herbal Throat Spray to support the upper respiratory system:

Soothes & cools the throat
Moisturises dry throat
Pleasant taste
ProFlam Benefits
Contains a synergistic blend of herbs and peppermint oil
Fast acting
Easy delivery format
Pleasant tasting
ProFlam Features
Contains synergistic natural ingredients for rapid sustained support of upper respiratory airways
ProFlam™ is applied directly to the area, for localised rapid and long lasting soothing immune support
The nebuliser delivery system ensures the inhaled mist is distributed throughout the upper respiratory airways for long lasting support
Peppermint oil provides a refreshing taste and has a natural cooling action
ProFlam Spray
ProFlam has a swivel nozzle. All you need to do is hold the base of the cap firmly and twist the nozzle until it is horizontal. This allows for the dose to get to the site of inflammation easily. Please be gentle doing this the first time.
Additional Information
Consult your doctor if symptoms persist or worsen after 7 days. ProFlam™ may be supportive if used by asthma sufferers
Recommended Dose:
Adults and children over 12 years of age: Spray 3 times to the affected area 2 to 3 times daily. Direct the spray onto the throat area
Active Ingredients in 3 sprays:
Active Ingredients
Plantago major (Major plantain) hydroglyceric extract
Sisymbrium officinale (Hedge mustard) fluid hydroalcoholic extract
Glycyrrhiza glabra (Licorice) soft extract
Mentha piperita (Peppermint) essential oil
Menthol crystals
Anethol
Also contains: sodium hyaluronate, alcohol, fructose and water
No added: Gluten (or wheat), dairy, yeast, artificial colours, flavours or preservatives
ProFlam™ is generally considered safe and well tolerated at the dose recommended.

Not recommended for children under 12 as ProFlam™ contains alcohol.

ProFlam™ contains fructose and as such, should be avoided in people with fructose intolerance.

Pregnancy & Breastfeeding: Not recommended during pregnancy or breastfeeding due to the Hedge mustard content.
Clinicians products support rather than compete with modern medicines. As medicines can deplete nutrients in the body, it was important to develop nutritional products that replenish the nutrients lost. Clinicians products, if taken on a regular basis, can also reduce the dependency on modern medicines.
Back in 1997, two pharmacists - Mike Cushman and Denis Kay - came to realise that the current pharmaceutical model was limited. Simply put, it couldn't provide the total answer to delivering wellness for their customers. Mike and Denis researched general and specific conditions to understand key drivers that triggered the imbalances that caused specific conditions. Along with this they researched the impact of modern medicines on body processes and their contribution to these imbalances.
And the result? The Clinicians product range of nutritional support. The product range developed includes not only general vitamin and mineral supplements, but also products for specific conditions and now a Works With Medicine range.