Clinicians Prospan Bronchial Syrup 200ml
Clinicians Prospan Bronchial Syrup is a powerful herbal formula made from dried ivy leaf to soothe the throat and help clear the airways. It also helps thin mucous and moistens dry irritated membranes of the airways and is a well tolerated formula suitable for children under 6.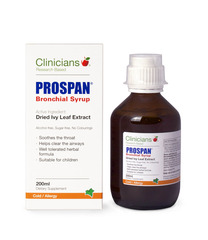 Specials are for online purchases only, don't miss out! -
Email
us to check for availability.
Seasonal ills and chills are a common reality for both adults and children and can have a significant impact on our well-being and productivity. As the body naturally tries to clear itself of mucus at such times, it can be helpful to have additional support (beyond our own natural immune response) to help clear the airways and soothe the throat so we can breathe freely.
Clinicians Prospan may be use alongside Del Immune V, VirActive Seasonal , Pepticol™ and Multiflora Digest for extra support
Clinicians Prospan should only be used in children under 2 under health professional supervision. While it is safe to take Clinicians Prospan in this age group, small children can become unwell quite quickly and need to be checked by a health professional to ensure appropriate care is given.
It is recommended that you continue to take Clinicians Prospan Prospan for 2 to 3 days after symptoms have disappeared.
Recommended Dosage:
Using the enclosed measuring cup.
Adults and children over 12 years: 5ml 3 times daily
Children 6-12 years: 5ml twice daily.
Children 2-6 years: 2.5ml twice daily.
Children under 2 years of age: 2.5ml twice daily *
Young children can develop serious illness quite quickly and should be assessed by a Doctor before taking Prospan
Active Ingredients in each 5ml dose:
Hedera helix (ivy leaf) dry extract (5-7.5:1)

Also contains: citric acid, natural cherry flavour, potassium sorbate, sorbitol 1.93mg/5ml (sugar substitute), xanthan gum, purified water
TIP: Shake well before use
Clinicians Prospan Bronchial Syrup has been used around the world for over 20 years and is considered safe and well tolerated in all age groups. Very occasionally mild gastrointestinal complaints may occur in some sensitive individuals.

Avoid using Clinicians Prospan in individuals allergic to ivy leaf. Sorbitol may cause diarrhoea in sensitive individuals at doses over 10g a day.

Pregnancy & Breastfeeding: Due to lack of sufficient studies on Clinicians Prospan during pregnancy and breastfeeding, consult a health professional before use during these times.
Clinicians products support rather than compete with modern medicines. As medicines can deplete nutrients in the body, it was important to develop nutritional products that replenish the nutrients lost. Clinicians products, if taken on a regular basis, can also reduce the dependency on modern medicines.
Back in 1997, two pharmacists - Mike Cushman and Denis Kay - came to realise that the current pharmaceutical model was limited. Simply put, it couldn't provide the total answer to delivering wellness for their customers. Mike and Denis researched general and specific conditions to understand key drivers that triggered the imbalances that caused specific conditions. Along with this they researched the impact of modern medicines on body processes and their contribution to these imbalances.
And the result? The Clinicians product range of nutritional support. The product range developed includes not only general vitamin and mineral supplements, but also products for specific conditions and now a Works With Medicine range.