Clinicians Prospan Lozenges 20 lozenges
Clinicians Prospan Lozenges are a unique herbal lozenge made from dried ivy leaf to soothe the throat and help clear the airways. It helps thin mucous and moistens dry irritated membranes of the airways.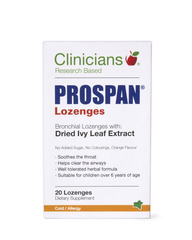 Specials are for online purchases only, don't miss out! -
Email
us to check for availability.
Prospan Lozenges are naturally developed and scientifically proven to soothe the throat and help clear the airways for adults and children.

Product Features Product Benefits
Soothes the throat and helps clears the airways
Prospan's main active ingredient is Ivy Leaf. For literally hundreds of years, people have placed their trust in the herbal power of wild ivy for respiratory tract support
Can be used for winter ills and chills
Product Features Product Features
Does not contain alcohol, sugar or artificial colours
Delicious orange flavour, which helps with compliance in children and adults
The dried plant extract is standardised, which means there is a consistently measurable amount of active ingredients every time the product is taken
Suitable for children over 6 years of age
Consult your doctor if respiratory symptoms persist or worsen after 7 days
Continue to take Prospan Lozenges for an additional 2-3 days after symptoms have disappeared
Ivy leaf does not adversely interact with other medications and can safely be used by asthmatics
The lozenges have a slight orange and menthol taste and may contain air bubbles. The lozenges are derived from an active herbal substance therefore the colour and taste may vary slightly and does not affect the quality or efficacy of the product.
Ivy leaf should not be confused with poison ivy (Toxicodendron quercifolium), which is a different herb from the Anacardiaceae family (Ivy leaf is from the Araliaceae family)
Recommended Dose:
Adults and children over 12 years of age: Suck 1 lozenge 4 times a day
Children between age 6 and 12: Suck 1 lozenge twice a day
Allow the lozenge to dissolve in the mouth after meals (not while lying down)
Active Ingredients in each lozenge:
Active Ingredients
Ivy leaves dry extract (5-7.5:1)


Also contains: Maltitol and sorbitol solution, acacia, citric acid, acesulfame potassium, medium chain triglycerides, orange flavouring menthol flavouring, purified water.
No added: Gluten (or wheat), dairy, yeast, sugar, artificial colours, flavours or preservatives
Based on data manufacturer's data, in very rare instances (less than 1 in 10,000 people), ivy may cause an allergic reaction, if this occurs seek immediate medical advice. Do not continue to take Ivy leaf if a hypersensitivity reaction has occurred.

Side Effects

Prospan products have been used around the world for over 60 years and are considered safe and well tolerated. Research on the safety and tolerability of Prospan showed adverse reactions occurred in less than 1% of subjects were minor in nature and predominately gastrointestinal-related symptoms.

Pregnancy & Breastfeeding

While Prospan Lozenges are considered safe and well tolerated there is insufficient safety data to recommend their use during pregnancy and breastfeeding
Clinicians products support rather than compete with modern medicines. As medicines can deplete nutrients in the body, it was important to develop nutritional products that replenish the nutrients lost. Clinicians products, if taken on a regular basis, can also reduce the dependency on modern medicines.
Back in 1997, two pharmacists - Mike Cushman and Denis Kay - came to realise that the current pharmaceutical model was limited. Simply put, it couldn't provide the total answer to delivering wellness for their customers. Mike and Denis researched general and specific conditions to understand key drivers that triggered the imbalances that caused specific conditions. Along with this they researched the impact of modern medicines on body processes and their contribution to these imbalances.
And the result? The Clinicians product range of nutritional support. The product range developed includes not only general vitamin and mineral supplements, but also products for specific conditions and now a Works With Medicine range.