Clinicians Rejuvenate with Hyaluronic Acid 60 Softgel Capsules
Clinicians Rejuvenate with Hyaluronic Acid is a high quality Women's Beauty formula which helps reduce the physical signs of aging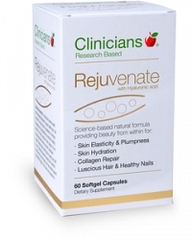 Specials are for online purchases only, don't miss out! -
Email
us to check for availability.
Clinicians Rejuvenate with Hyaluronic acid contains ingredients that work synergistically to provide the building blocks for your body's synthesis of skin collagen. Rejuvenate is for skin elasticity and plumpness, skin hydration, collagen repair and Luscious hair and healthy nails.

Benefits
Contains a synergistic combination of natural collagen and hyaluronic acid to strengthen, lubricate and hydrate the skin
It helps provide skin elasticity
Hydrates and plumps the skin
Repairs collagen and reduces the appearance of fine lines, wrinkles and age spots
Astaxanthin helps protect against UV damage
Astaxanthin is a powerful antioxidant proven to enhance skin appearance by reducing the appearance of wrinkles and helps improve skin elasticity.
Avocado oil helps increase the bioavailability and absorption of astaxanthin
Both the New Zealand marine collagen and astaxanthin are derived from sustainable resources
And it offers the added benefit of delivering luscious hair and nails

Features

Contains New Zealand marine collagen and hyaluronic acid
Contains New Zealand astaxanthin
Includes New Zealand avocado oil
Made from sustainable resources
Q. Who might benefit from taking Rejuvenate?
A. Adults aged 25 years and older wanting to support the integrity of their skin, be it from ageing, sun damage or other forms of oxidative stress such as smoking and excess alcohol consumption.

Q. What is Collagen?
A. The word collagen is derived from the Greek word "kola" which means glue. Collagen gives skin its natural strength, elasticity and resilience. Marine collagen contains the amino acid proline which is a critical building block for the body's synthesis of collagen.

Q. What is Hyaluronic acid?
A. Hyaluronic acid helps maintain skin hydration by binding to water and forming a gel. By locking in water, hyaluronic acid naturally increases the dermal volume and compressibility of the skin. In other word keeps it moist and plump. Hyaluronic acid also acts as a natural antioxidant by protecting against free radicals caused by sun exposure.

Q. What is Astaxanthin?
A. Astaxanthin is a natural antioxidant that has 10 times the antioxidant activity of other carotenoids and 500 times the antioxidant potency of vitamin E. It is very protective to the skin and helps in preventing oxidative damage
Adults:
Take 2 capsules daily for 8 weeks, thereafter reduce to 1 capsule daily
Ingredients per Softgel Capsule:

New Zealand marine collagen 250 mg
Hyaluronic acid 25 mg
Astaxanthin 3 mg
New Zealand avocado oil 465 mg

Also contains: Gelatine, glycerol and water, sorbitol, beeswax, titanium dioxide and iron oxide.
No added: Gluten, dairy, yeast, sugar, artificial colours, sweeteners, flavours or preservatives.
Theoretically avocado oil may affect bleeding times. Exercise caution with people taking blood thinning medication and monitor coagulation levels particularly during the first month of supplementation
Pregnancy and Breastfeeding - Exercise caution or avoid during pregnancy and breast feeding due to the astaxanthin content. Due to a lack of safety data in this cohort