Clinicians REM Sleep 30 capsules
Clinicians REM Sleep supports a healthy night's sleep, by supporting the processes of getting to sleep and staying asleep. Clinicians REM Sleep provides a combination of vitamins, minerals and herbs that have a calming effect and promote relaxation for a good night's rest.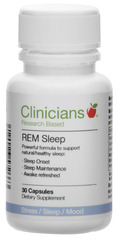 Specials are for online purchases only, don't miss out! -
Email
us to check for availability.
REM Sleep Benefits
A researched based combination of 5-HTP, Passionflower, Skullcap, magnesium and B vitamins to provide the building blocks that support you to feel relaxed, fall asleep and get a good night's rest.
Support for falling asleep and staying asleep
Helps you wake feeling refreshed and rested
Support in times of stress
Helps with energy levels and mood
Helps support sleep when mild stress may be keeping you awake
Sleep support while travelling across time zones
Contains 5-HTP providing the building blocks for the natural sleep hormone
Magnesium and vitamin B3 and Vitamin B6 to help aid relaxation and natural sleep support
Passionflower and Skullcap are botanical extracts that help calm and relax the body and mind to help relieve nervous tension and help you fall asleep and get a good night's rest
REM Sleep Features
Provides essential building blocks for the natural sleep hormone and helps calm and relax
Non habit forming
May also provide muscle relaxation
Suitable for most age groups
Long term use does not appear to be associated with side effects
You may experience problems with sleep-onset and/or sleep maintenance (frequent waking during the night or early waking). If sleep problems are a regular occurrence, they may result in a continuous cycle of fatigue that can be debilitating and impact dramatically on an individual's quality of life.
Common causes can be psychological and over stimulation from medications. Besides these, there are over 300 stimulatory agents - cannabis, smart, drugs, caffeine, coffee, tea, chocolate, sugar and food additives. There can also be other medical reasons. Natural alternatives can be considered as first line interventions. These include exercise, progressive relaxation, serotonin precursor and cofactor therapy, melatonin or herbal sedative support. Clinicians REM Sleep is a research-based formulation that contains nutrients known to support both sleep-onset and sleep maintenance.
5-HTP is a precursor to the brain chemical serotonin. Low levels of serotonin have been linked to mood changes and disturbed sleep patterns.
You may also wish to consider taking the following Clinicians products alongside Clinicians REM Sleep: Good Mood if you experience mood imbalances, Stress and Energy Support or B Complex for support during times of stress or convalescence. For additional vitamin and mineral support also consider taking Clinicians MultiVitamin and Mineral Boost.
Recommended Dosage:
Adults: 2 capsules 15 to 30 minutes before bedtime. Repeat the dose during the night if required
Active Ingredients in each gelatin capsule:
Vitamin B3 (nicotinamide)
Vitamin B6 (from pyridoxine hydrochloride)
5-Hydroxytryptophan
Magnesium (from magnesium aspartate complex)
Passiflora incarnata (passion flower) ext.equiv.dry herb
Scutellaria lateriflora (scullcap) herb
Also contains: Magnesium stearate.
No added: gluten, dairy, yeast, sugar, artificial colours or preservatives.
Clinicians REM Sleep contains 5-HTP which should not be used alongside SSRI and MAOI anti-depressant medication. Individuals taking these medications should use Clinicians REM Sleep under the supervision of a health professional, or should not exceed the recommended daily dose unless under the direction of a health professional.

Pregnancy & Breastfeeding: Little is known about the use of the ingredients contained in Clinicians REM Sleep in pregnancy and breastfeeding. This supplement is not recommended for use during pregnancy, or breastfeeding.
Clinicians products support rather than compete with modern medicines. As medicines can deplete nutrients in the body, it was important to develop nutritional products that replenish the nutrients lost. Clinicians products, if taken on a regular basis, can also reduce the dependency on modern medicines.
Back in 1997, two pharmacists - Mike Cushman and Denis Kay - came to realise that the current pharmaceutical model was limited. Simply put, it couldn't provide the total answer to delivering wellness for their customers. Mike and Denis researched general and specific conditions to understand key drivers that triggered the imbalances that caused specific conditions. Along with this they researched the impact of modern medicines on body processes and their contribution to these imbalances.
And the result? The Clinicians product range of nutritional support. The product range developed includes not only general vitamin and mineral supplements, but also products for specific conditions and now a Works With Medicine range.