Clinicians Super Family C 2000 Powder 1kg
Super Family C™ provides 24 hour Vitamin C activity to support everyday health, immunity & circulation. Scientifically formulated with esterified Vitamin C in combination with citrus bioflavonoids for enhanced activity in the body.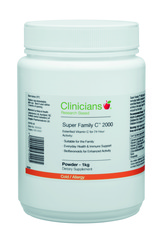 Specials are for online purchases only, don't miss out! -
Email
us to check for availability.
Super Family C Benefits
Esterified Vitamin C for 24 hour activity
Everyday immune support and general health
Vitamin C can be rapidly depleted during times of illness, so more needs to be consumed at these times
Vitamin C is an antioxidant and supports the removal of free radicals, which can damage cells
This formula helps support blood vessel and circulatory health
Vitamin C is supports hormone and neurotransmitter production and is needed more in times of stress
Vitamin C is required for healthy skin, tendons, ligaments and connective tissue
Super Family C Features
Provides 3 forms of well absorbed vitamin C including the less acidic calcium ascorbate threonate, making it more gentle on the stomach than ascorbic acid alone
The powder offers cost effective flexible dosing and is suitable for the family
Super Family C powder is easy for children to take and has a pleasant citrus taste
It is well tolerated during pregnancy and breastfeeding
Vitamin C and bioflavonoids are essential antioxidants that are found in nature together in many fruits and vegetables. The human body is unable to manufacture either and relies on daily dietary intake to meet its needs. Both vitamin C and bioflavonoids work together in the body and need to be supplemented together for best results. Bioflavonoids enhance the absorption and action of vitamin C in the body and they also help reduce inflammation.
Vitamin C's main function in the body is its role in producing collagen, the substance that makes up ligaments, tendons and connective tissue that connects and supports the human body. Vitamin C supplementation has been shown to enhance the immune system; promotes wound healing; supports neurotransmitter and hormone production and promotes the health of all cells in the body.
Vitamin C is one of the most important antioxidants in the body, it works both inside and outside the cells where it provides front line antioxidant protection. Significant research has been undertaken to evaluate the potential role vitamin C may play in preventing many chronic diseases that result from free radical and oxidative damage. Vitamin C deficiency may occur as a result of poor dietary intake or due to the use of conventional medications that may cause vitamin C depletion over time. Vitamin C deficiency can result in diminished immune response, susceptibility to infection and slow wound healing.
Vitamin C supplementation corrects a condition called scurvy, one of the oldest known nutritional deficiencies. When Vitamin C stores are low, the action of other antioxidant nutrients such as vitamin E and selenium also drop. It is essential to maintain healthy stores of this vitamin. Clinicians Family C (plus bioflavonoids) provides three forms of Vitamin C; calcium ascorbate, sodium ascorbate and ascorbic acid, which together with a citrus bioflavonoid complex work together to support immune, circulatory and everyday general health.
Recommended Dose for Super Family C™ Powder
Adults: Take one rounded 5ml size measuring spoon per day. Mix with juice or water.
Children (9-13 years): Take half a 5ml measuring spoon per day. Mix with juice or water.
Children (4-8 years): Take half a 5ml measuring spoon per day. Mix with juice or water.
NB daily recommendation for children can be taken in divided doses during the day to avoid any potential changes in bowel motility.
Active Ingredients in 5g (1 rounded 5ml measuring spoon):
Calcium ascorbate threonate complex
Vitamin C (ascorbic acid)
Vitamin C (sodium ascorbate)
Vitamin B2 (as riboflavin)
Citrus bioflavonoid complex
Rutin
Hesperidin
Also contains: Maltodextrin (2.3g/5g), natural flavouring, stevia and xanthan gum. Calcium content (from calcium ascorbate threonate) 103mg/5g. Sodium content (from sodium ascorbate) 33mg/5g.
No added: gluten, dairy, yeast, sugar, artificial colours or preservatives
Vitamin C is generally well toleratede and well tolerated at the recommended dose. In some sensitive individuals, bowel looseness may occur as a result of high dosing.
Pregnancy & Breastfeeding: Well tolerated and considered beneficial during pregnancy and breastfeeding
Clinicians products support rather than compete with modern medicines. As medicines can deplete nutrients in the body, it was important to develop nutritional products that replenish the nutrients lost. Clinicians products, if taken on a regular basis, can also reduce the dependency on modern medicines.
Back in 1997, two pharmacists - Mike Cushman and Denis Kay - came to realise that the current pharmaceutical model was limited. Simply put, it couldn't provide the total answer to delivering wellness for their customers. Mike and Denis researched general and specific conditions to understand key drivers that triggered the imbalances that caused specific conditions. Along with this they researched the impact of modern medicines on body processes and their contribution to these imbalances.
And the result? The Clinicians product range of nutritional support. The product range developed includes not only general vitamin and mineral supplements, but also products for specific conditions and now a Works With Medicine range.