Clinicians Thyroid Support 60 capsules
Clinicians Thyroid Support is a research based synergistic blend of vitamins, minerals and amino acids to support thyroid hormone production, healthy metabolism and energy levels.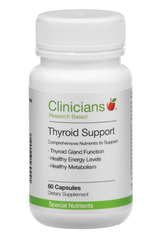 Specials are for online purchases only, don't miss out! -
Email
us to check for availability.
Thyroid Support Benefits


A synergistic blend of ingredients to support healthy thyroid function, metabolism and energy levels

Contains essential nutrients known to support thyroid hormone production and conversion in the body

Contains L-tyrosine, Kelp and iodine, all are essential for healthy thyroid hormone production.

With vitamin A, an essential cofactor required for thyroid hormone manufacture

Includes selenium and B group vitamins which are required for thyroid hormone conversion and activity

Includes zinc which is required for the uptake and metabolism of the thyroid hormones

Thyroid Support Features
Can be used alongside nutritional supplements for adrenal support, multivitamins and antioxidants

All-in-one support for thyroid function

Does not need to be used long-term

Cost effective

The thyroid gland is a hormone producing gland that lies in the neck region. It is responsible for the production of the thyroid hormones which regulate metabolism in every cell of the body. The thyroid gland is an extremely important part of the endocrine system and it works together with the adrenal glands, pituitary gland and hypothalamus to maintain homeostasis (normal balance) in the body.
Disorders of thyroid hormone production may lead to low thyroid function (hypothyroidism) or over-active thyroid function (hyperthyroidism). Low thyroid function may be caused by an iodine deficiency or autoimmune disease (a hereditary condition). The negative effects of low thyroid function on general health are wide and varied and can have a profound effect on many bodily processes.
Ways in which one may naturally enhance thyroid function include:
Exercise: Moderate daily exercise may increase the metabolic performance of every active cell in the body, placing demands on thyroid function for increased output of thyroid hormone.
Diet - "Goitrogenic foods": Some foods are known to reduce thyroid function and thyroid hormone activity. These foods are known as "goitrogens" and may be found in the highest concentrations in soybean products (including tofu) and raw cruciferous vegetables (broccoli, brussels sprouts, cabbage, cauliflower, turnips etc.). Reducing the intake of these foods may increase thyroid function. In addition to the above, many individuals may require additional nutrient support for optimal thyroid function.
Clinicians Thyroid Support is a research-based formula providing nutrients that support health thyroid function and can be used alongside Clinicians Stress & Energy Support, MultiVitamin and Mineral Boost for additional support.
Recommended Dosage:

Adult: 1 capsule twice daily or as directed.
Active Ingredients in each gelatin capsule:
Vitamin A (from retinol acetate) 1500IU
Vitamin B2 (riboflavin)
Vitamin B3 (nicotinamide)
Vitamin B12 (as methylcobalamin)
Vitamin C (ascorbic acid)
Vitamin D (as cholecalciferol)
Copper (from copper amino acid chelate)
Iodine (potassium iodide)
Iodine (from fucus vesiculosus [kelp] powder ext.)
Selenium (from selenomethionine)
L-Tyrosine
Zinc (from zinc amino acid chelate)

Also contains: tapioca
No added: gluten, dairy, yeast, artificial colours or preservatives.
Use Clinicians Thyroid Support with caution in individuals taking warfarin as iodine may affect the blood's clotting ability and therefore may alter the affect of this medication. Consult your health professional before taking this product if you have hyperthyroidism or are on thyroid medication.

Pregnancy & Breastfeeding: This product contains vitamin A. If pregnant or planning to become pregnant, do not take vitamin A supplements without consulting with your health professional. There is insufficient evidence regarding the use of the ingredients in Clinicians Thyroid Support during pregnancy and breast feeding, therefore it is not be considered safe to use during these times.
Clinicians products support rather than compete with modern medicines. As medicines can deplete nutrients in the body, it was important to develop nutritional products that replenish the nutrients lost. Clinicians products, if taken on a regular basis, can also reduce the dependency on modern medicines.
Back in 1997, two pharmacists - Mike Cushman and Denis Kay - came to realise that the current pharmaceutical model was limited. Simply put, it couldn't provide the total answer to delivering wellness for their customers. Mike and Denis researched general and specific conditions to understand key drivers that triggered the imbalances that caused specific conditions. Along with this they researched the impact of modern medicines on body processes and their contribution to these imbalances.
And the result? The Clinicians product range of nutritional support. The product range developed includes not only general vitamin and mineral supplements, but also products for specific conditions and now a Works With Medicine range.