Clinicians Vision Food with Bilberry and Blackcurrant 30 capsules
Clinicians Vision Food contains Bilberries and NZ Black currants which are both known for their high levels of an eye specific antioxidant known as anthocyanins. Due to the high amount of UV rays in New Zealand, the Black Currants produce some of the highest levels of these antioxidants in the world. These powerful antioxidants are renown for supporting eye health, eye strength and focus, vision clarity, and can be of benefit with sustained computer work.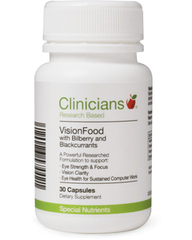 Specials are for online purchases only, don't miss out! -
Email
us to check for availability.
VisionFood Benefits
Supports eye strength and focus through helping the eye muscles
Supports vision clarity via assisting the removal of damaging light from the retina
Supports eye health
Assists with eye muscle fatigue for those concerned about sitting in front of a computer screen for long hours
Supports low light vision
VisionFood Features
Includes New Zealand Black Currant anthocyanins standardised to contains a high dose of 75mg
EIncludes Bilberry anthocyanins which have been researched for over forty years
Contains higher levels of eye-protecting anthocyanins when compared with black currants from other countries which means you get more for your purchase.
Dosing aligns with research dedicated to eye health to ensure clinical beneficial and synergistic effects.
Easy to take and easy to remember as only one capsule needed per day
Vaccinum myrtillus (Bilberry) fruit ext.
[Standardised to 50mg anthocyanins]

200
mg
Ribes nigrum (Black Currant) fruit ext.
[Standardised to 25mg anthocyanins]
83
mg
Also contains: Gelatin, microcrystalline cellulose, magnesium stearate and silcon dioxide.
No Added: Gluten, dairy, yeast, sugar, artificial colours, sweeteners, flavours or preservatives.
Not suitable for Vegetarians
Pregnancy & Breast Feeding. Considered safe during pregnancy and breast feeding in women who do not have an allergy to plants from the Ericaceae or Grossulariaceae families.
Other: While considered safe at the recommended dose, exercise caution in people taking warfarin and blood thinning drugs, as well as those with bleeding disorders. Supplementation with anthocyanins above 100 to 170mg per day should only be administered under the supervision of a health practitioner monitoring coagulation levels.