Clinicians Vitamin B12 Oral Drops (50mcg)
Clinicians Vitamin B12 Oral Drops provide a highly bioavailable form of Vitamin B12 for enhanced absorption and utilization in the body. Vitamin B12 is essential for mood and nervous system support, healthy mental function and red blood cell health.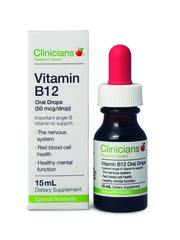 Specials are for online purchases only, don't miss out! -
Email
us to check for availability.
Vitamin B12 Oral Drops Benefits

Clinicians Vitamin B12 Oral Drops supports healthy nervous system function
Supports mental alertness
Supports memory and healthy mood
Assists with sleep quality
Supports nerve health during times of immune stress
Useful in individuals with low blood and tissue levels of vitamin B12
If you are vegetarian or vegan you are more likely to be deficient in B12 and folic acid

Vitamin B12 Oral Drops Features
Vegan and vegetarian friendly
Rapidly absorbed through tissues of the mouth (drops are placed under the tounge)
Methylcobalamin is absorbed and utilised more effectively in the body than other forms of vitamin B12
Methylcobalamin stays longer in the tissue than most other forms of B12
Easy to use liquid format for rapid oral delivery
Provides cost effective flexible dosing

Signs of Vitamin B12 deficiency include: numbness, a sensation of pins and needles, a burning sensation in the feet and sometimes diarrhoea.

Cyanacobalamin is the most commonly used supplemental form of Vitamin B12 and is usually given orally or as an intramuscular injection. However, nutritional and digestive problems, heavy metal toxicity, enzyme defects and pathological changes to tissues can all impact on the way in which cyanacobalamin is absorbed and processed in the body.

Oral supplementation with vitamin B12 has been shown to be as effective as intramuscular injection, as the cobalamin is absorbed through the mucosal lining of the mouth. Evidence indicates that Vitamin B12 in the form of methycobalamin is utilised far more efficiently than any other form of vitamin B12. Methycobalamin has also been shown to stay in tissue longer than other forms of vitamin B12.

If Clinicians Vitamin B12 Oral Drops are used long-term we suggest you also use Clinicians B Complex or Clinicians MultiVitamin & Mineral Boost as these will provide a full complement of B group Vitamins. B group vitamins have many interrelated actions in the body, using a high dose of a single Vitamin can lead to deficiencies in other B Vitamins over time.
Recommended Dose:

Adult: Place 1 drop under the tongue daily. As maintenance, take 1 drop 3 times weekly. For long-term use, use together with folic acid.
Active Ingredients in 1 drop:
Vitamin B12 (Methycobalamin)

Also contains: purified water, citric acid, sodium citrate and potassium sorbate.
No added: gluten, dairy, yeast, sugar, artificial colours, sweeteners or flavours.
Pregnancy and breast feeding: Clinicians Vitamin B12 Oral Drops is well tolerated and considered safe to use during these times, use under supervision of a health professional to ensure appropriate dosing.
Clinicians products support rather than compete with modern medicines. As medicines can deplete nutrients in the body, it was important to develop nutritional products that replenish the nutrients lost. Clinicians products, if taken on a regular basis, can also reduce the dependency on modern medicines.
Back in 1997, two pharmacists - Mike Cushman and Denis Kay - came to realise that the current pharmaceutical model was limited. Simply put, it couldn't provide the total answer to delivering wellness for their customers. Mike and Denis researched general and specific conditions to understand key drivers that triggered the imbalances that caused specific conditions. Along with this they researched the impact of modern medicines on body processes and their contribution to these imbalances.
And the result? The Clinicians product range of nutritional support. The product range developed includes not only general vitamin and mineral supplements, but also products for specific conditions and now a Works With Medicine range.