Clinicians Zinc Oral Drops (1mg/drop)
Clinicians Zinc Oral Drops is a high potency, well tolerated liquid form of Zinc for cost effective flexible dosing for all age groups. Zinc is an important trace mineral essential for healthy hormone production, immune function, skin health and growth and repair.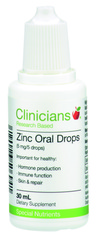 Specials are for online purchases only, don't miss out! -
Email
us to check for availability.
Zinc Oral Drops Benefits

Zinc is an important trace mineral for all New Zealanders due to soil depletions
Zinc is an essential trace mineral and is a component in over 200 known enzymes in the body
Zinc is a powerful antioxidant and helps protect against free radical damage
Zinc may assist in wound healing, sensory function, sexual function and skin health
Supports healthy immune system function during susceptible times
Zinc is essential for the proper action of hormones such as insulin, growth hormones and the sex hormones in both males and females

Zinc Oral Drops Features
High potency zinc in liquid format for enhanced absorption and utilisation in the body
Well tolerated form of zinc suitable for a wide range of age groups including children
Zinc sulfate provides a quality form of zinc
Liquid format provides cost effective flexible dosing
Safe and well tolerated
Can be taken alongside conventional medicines
Suitable for women who are pregnant or breastfeeding

You may wish to take Clinicians MultiVitamin & Mineral Boost alongside Clinicians Zinc Oral Drops to fill dietary gaps and ensure adequate daily intakes of key nutrients to support everyday health and wellbeing. If you want to test your Zinc levels visit your local Clinicians stockist and ask to try our Clinicians ZincTest Solution.

The beneficial effects of zinc are extensive due to the fact that zinc is involved in over 200 enzymes and biological processes in the body. Zinc is found in every cell in the body and is essential for the proper action of many hormones in the body, such as insulin, growth hormone and the sex hormones in both men and women. In men zinc supports male sex hormones, prostate health and fertility. Zinc is essential for protein production to support growth, repair and wound healing. Adolescents and the very young can use up their zinc stores during rapid growth spurts.
Although severe zinc deficiency is rare, marginal deficiencies are common due to poor dietary choices and zinc being deficient in New Zealand soil. The elderly, adolescents and the young being more at risk. Zinc deficiency may present as white spots on finger nails, loss of sense of taste and smell, poor night vision, delayed wound healing, skin problems and an increased susceptibility to infection.
Recommended Dose:

Mix with water or juice.

Adults: up to 11-15 drops per day.

Children and adolescents (9-18 years): up to 8-15 drops per day.

Children (4-8 years): up to 5-12 drops per day.

Children (1-3 years): up to 3-7 drops per day.

(NB: highest daily dose reflects safe tolerable upper level for each age or the maximum permissible over-the-counter dose in New Zealand (15mg)).

Age

Dietary Reference Intakes

(recommended daily intake)

Tolerable Upper Intake Levels

(maximum recommended daily intake)

Children 1-3 years

3mg

7mg

Children 4-8 years

5mg

12mg

Children 9-13 years

8mg

23mg

Males 14-18 years

11mg

34mg

Males 19 years +

11mg

40mg

Females 14-18 years

9mg

34mg

Females 19 years +

8mg

40mg

Pregnancy 14-18 years

12mg

34mg

Pregnancy 19 years +

11mg

40mg

Lactation 14-18 years

13mg

34mg

Lactation 19 years +

12mg

40mg
Active Ingredient in 1 drop:
Zinc (from zinc sulfate)

Also Contains: purified water, citric acid, sodium citrate and potassium sorbate.
No added: gluten, dairy, yeast, sugar, artificial colours,
sweeteners or flavours.
Zinc competes with copper for absorption. Other minerals (most notably calcium and iron) can adversely affect zinc absorption if supplemented at high doses. If you are taking high doses of other individual minerals defer zinc supplementation to a different time of day.

Pregnancy & Breastfeeding: Clinicians Zinc Oral Drops is well tolerated and considered safe to use during these times, use under health professional supervision to ensure appropriate dosing.
Clinicians products support rather than compete with modern medicines. As medicines can deplete nutrients in the body, it was important to develop nutritional products that replenish the nutrients lost. Clinicians products, if taken on a regular basis, can also reduce the dependency on modern medicines.
Back in 1997, two pharmacists - Mike Cushman and Denis Kay - came to realise that the current pharmaceutical model was limited. Simply put, it couldn't provide the total answer to delivering wellness for their customers. Mike and Denis researched general and specific conditions to understand key drivers that triggered the imbalances that caused specific conditions. Along with this they researched the impact of modern medicines on body processes and their contribution to these imbalances.
And the result? The Clinicians product range of nutritional support. The product range developed includes not only general vitamin and mineral supplements, but also products for specific conditions and now a Works With Medicine range.