Crampeze Night Cramps FORTE 60 Capsules
Crampeze Forte 60 Tablets utilises the highest quality natural ingredients and combining it with thorough research and medical recommendation, Crampeze Forte is well-known and highly reputable within the Australian complementary health industry.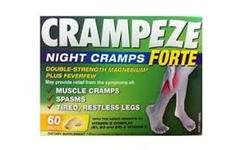 Specials are for online purchases only, don't miss out! -
Email
us to check for availability.
Although most people have had the occasional cramp, it is as we age that the problem becomes more common and night cramps may be experienced. These involuntary contractions of the leg muscles, most commonly in the calf area, can occur after a lot of physical activity. They can strike repeatedly and can prove to be a distressing and painful condition, with the loss of quality sleep resulting in sleepiness and fatigue during the day. While the cause of night cramp is not fully known, over-exertion of muscles, dehydration, and magnestium deficiency maybe contributing factors. Stretching the muscle that has gone into spasm can provide relief, and some people are helped by lying on their backs and raising their feet in the air. A number of products with natural ingredients may provide temporary relief. Certain vitamins, minerals, and natural plant extracts may assist in the temporary relief of night time cramping.
Crampeze Forte 60 Tablets contains ingredients specifically selected for their soothing and healing properties the Crampeze Forte range is an affordable and effective solution for your consumer. The products are specifically formulated to provide relief from common, everyday ailments that can get in the way of enjoying a full and active life.
Take 2 capsules twice daily with water for first 4 weeks. Thereafter 1 capsule twice daily to maintain the therapeutic benefit. Dosage to be taken in the morning and 30 minutes before retiring at night.
Initial relief should be experienced within 10 days, with maximum therapeutic benefit occurring after 4 weeks.
Rutin 250mg, Magnesium (as oxide heavy) 150mg, Tanacetum Parthenium (Feverfew) extract equivalent to leaf dry 150mg, Cuprum Metallicum 8X 2 microlitre, Calcium Pantothenate (Vitamin B5) 20mg, Nicotinamide (Vitamin B3) 20mg, Thiamine Hydrochloride (Vitamin B1) 20mg, d-alpha Tocopherol (Vitamin E) 150IU, Cholecalciferol (Vitamin D3) 400IU.
Vitamin supplements should not replace a balanced diet. Always read the label and use as directed. If symptoms persist consult a healthcare practitioner.