Crystaderm cream 10g
Crystaderm Cream is an essential item for your family's first aid kit. Crystaderms powerful antibacterial action is ideal for preventing cuts, sores & grazes from infection and can be used to treat minor skin infections and acne.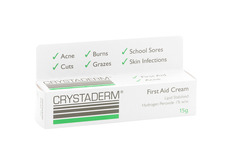 Specials are for online purchases only, don't miss out! -
Email
us to check for availability.
Crystaderm cream is a first aid cream which can be used for the treatment of acne, minor skin infections and the prevention of infection in minor cuts, scrapes and burns. The active ingredient of Crystaderm cream is hydrogen peroxide in a concentration of 1% w/w. Hydrogen Peroxide is a potent agent against many types of bacteria, and some fungi and viruses. It acts by destroying essential components of the cells of these organisms. To use, simply clean the affected area then apply Crystacide sparingly 3 to 4 times per day.
The wound should be cleansed with water and a mild soap before applying Crystaderm cream. It should be applied 2-3 times a day, or when needed, to the affected areas. If an occlusive dressing is used, one application a day may be sufficient. A dry film may appear on the skin after application; this can be easiliy wshed off with water.

The treatment period should not exceed 3 weeks. If symptoms persist for more than 3 weeks consult your doctor.
Active ingredients: Lipid stabilised Hydrogen Peroxide 1% w/w.

Inactive ingredients: Glyceryl monolaurate, glyceryl monomyristate, polyoxyethylene (100) stearate, propylene glycol, anhydrous citric acid, sodium hydroxide, sulphuric acid, sodium oxalate, salicylic acid, disodium edetate, sodium pyrophosphate, sodium stannate and purified water.
Tell your pharmacist or doctor if you are sensitive to any of the ingredients of crystacide cream.

Crystacide cream should not be used in the presence of iodine, permanganate or any other strong oxidising agents.Crystacide cream is generally well tolerated and not associated with any serious side effects. However, a mild sensation of burning may be experienced for a short time after application. If you experience prolonged irritation of the skin or any other ill effects, tell your pharmacist or doctor.

Crystaderm Cream contains Hydrogen Peroxide 1% w/w. Always read the label & use strictly as directed. If symptoms persist please see your healthcare professional. TAPS 0413HA.