Crystal Clear Pregnancy 2 Tests
A home pregnancy test which provides accurate results (over 99%) within 2-5 minutes.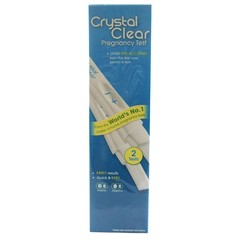 Specials are for online purchases only, don't miss out! -
Email
us to check for availability.
During pregnancy, a woman's body produces human chorionic gonadotrophin (hCG). This is secreted by the placenta soon after conception and increases throughout the first trimester, doubling every 1-2 days. The Crystal Clear test will detect hCG levels in the urine, providing an indication of early pregnancy.The test stick should be held in the urine stream for 5-10 seconds. Results may be visible in 2 minutes at room temperature (15-30 degrees C), however a final decision should not be made before 5 minutes.If the result is positive it is recommended that you test again in 3 days. If the result is still positive, see your doctor who will confirm the result and explain what steps you can take next.
Testing Early: The pregnancy hormone increases rapidly in early pregnancy and Crystal Clear may be used to test up to 4 days before your period is due. In clinical testing with early pregnancy samples, Crystal Clear detected the pregnancy hormone in 53% of women 4 days early, 74% of women 3 days early, 84% of women 2 days early and 87% of women 1 day early.
Easy to use: Simply remove the cap and hold the Absorbent Tip pointing downward in the urine stream for 5 seconds ONLY. Results appear after just 2 minutes.
2 x Crystal Clear Midstream Pregnancy Tests