Deep Heat Back Patches 2 pack
Deep Heat Patches are odourless and provide up to 8 hours of deep penetrating warmth designed for the effective relief of backache, joint stiffness, muscular aches and pains, strains and sprains. This comfortable heating pad applies directly to the skin and can be worn unnoticed under clothing as you go about your daily routine.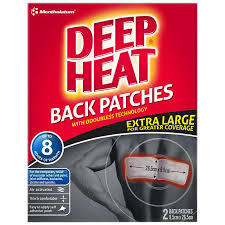 Specials are for online purchases only, don't miss out! -
Email
us to check for availability.
THIS PRODUCT IS AIR ACTIVATED. OPEN ONLY WHEN READY TO USE
The Deep Heat Patch Features
• ODOURLESS technology
• UP TO 8 HRS of warmth
• Air activated, contains iron powder
• Versatile sizes – the small size is ideal for neck, arms and legs and the large size is ideal for the back
and shoulders as well as for menstrual pain
• Good adhesion
• Non-staining
• Discreet – can be worn under clothing
Use on clean, dry skin. Do not use on the face or on broken skin, bruises or swellings.
Tear open plastic packet, remove protective film from patch and apply patch to the affected area, adhesive side onto the skin. For delicate or ageing skin, apply adhesive side of patch to clothing.
On flexible joints use dressing tape to hold the patch in place. Do not bandage over the patch.
The patch will heat up after 5 minutes and remain warm for up to 8 hours.
Use only one patch on the same area in 24 hours.
Single use only. DO NOT attempt to reheat in oven or microwave.
Do not cut, massage, fold or wet the patch. Do not use if the patch is damaged or torn.
To remove, slowly peel off the patch.
Do not use: whilst asleep or with prolonged pressure against patch; on infants, children or persons unable to remove the patch on their own; on the same area for more than 8 hours in any 24 hour period; with other skin medication or heat sources.
All heat patches have the potential to cause skin irritations, burns or blisters. Discontinue use if skin sensitivity occurs or the patch gets uncomfortably hot. If you are diabetic, pregnant, have poor circulation, nerve damage, a skin condition or an allergy to sticking plasters, consult your doctor before use. FOR EXTERNAL USE ONLY. Do not ingest as the ingredients can be harmful. If swallowed or contents come into contact with skin or eyes, rinse immediately with water and seek immediate medical help. After use dispose in normal household waste.