Difflam Plus Anaesthetic Menthol & Eucalyptus 16 lozenges
Difflam Anaesthetic Anti-inflammatory Anti-bacterial Lozenges
For fast relief of painful throat and mouth conditions including:
sore throats

pain post mouth or throat surgery

pain post dental procedures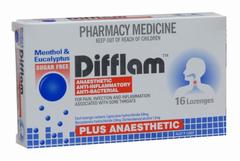 Specials are for online purchases only, don't miss out! -
Email
us to check for availability.
Difflam Plus Anaesthetic anti-Inflammatory lozenges help to provide fast and effective relief from painful conditions of the throat and mouth including tonsilitis, sore throat, pharyngitis and mouth ulcers.
Fast relief of painful conditions of the throat and mouth.
An anti-inflammatory and an analgesic with local anaesthetic effect.
Anti-bacterial.
Helps clear croaky voice from cold and flu.
Sugar free. Suitable for diabetics.
Dosage:
Suitable for: Adults and children 6 years and over.

Use in pregnancy: Pregnant women should seek advice from a healthcare professional before using this product.

Directions for use: Slowly dissolve 1 lozenge in the mouth every 2-3 hours as required. Maximum 12 lozenges per day.
Active Ingredients:
Each lozenge contains: Lignocaine hydrochloride 4 mg, Benzydamine hydrochloride 3 mg, Dichlorobenzyl alcohol 1.2 mg.
Due to an anaesthetic effect, do not ingest hot food or drink directly after using lozenges. Contains isomalt. Products containing isomalt may have a laxative effect or cause diarrhoea. Contains aspartame. Phenylketonurics are warned that this product contains phenylalanine.