Disprin Max 500mg 32 tablets
For fast and effective relief of headaches and migraine headache, rheumatic and arthritic pain, neuralgia, toothaches, cold and flu symptoms, sore throat, period pain, fibrositis, inflammation associated with back and muscular pain, strains and sprains.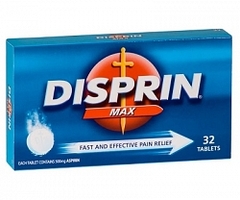 Specials are for online purchases only, don't miss out! -
Email
us to check for availability.
Dispirin max also reduces fever. Dispirin tablets are easy to swallow and can be dispersed in water. Dispirin max is aluminium free.
Adults - 1-2 tablets dispersed in, or taken with, water every 4-6 hours as required.Children : 12 years and over - 1 tablet dispersed in or take with water every 6 hours as required.
Do not exceed 4 doses in 24 hours except on doctor's advice. Do not take for more than 10 days without consulting a doctor. Do not give to children under 12 years of age except on doctor's advice. Consult a doctor before giving this medication to children or teenagers with chicken pox, influenza or fever. Preparations containing aspirin should not be taken by people allergic to aspirin or who are taking anti-coagulant therapy. People who suffer from asthma or stomach ulcer and pregnant women should consult a doctor before taking this preparation. This preparation is for the relief of minor and temporary ailments and should be used strictly as directed. Prolonged or excessive use without medical supervision could be harmful.