EleCare Unflavoured with LCP 400g
Elecare unflavoured with LcP is a nutritionally complete amino acid based formula, specially formulated to meet the nutritional needs of infants and children who need an amino acid based formula or who cannot tolerate intact or hydrolysed protein.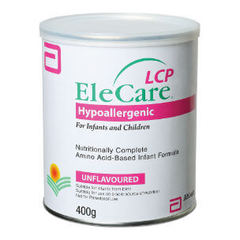 Specials are for online purchases only, don't miss out! -
Email
us to check for availability.
EleCare Unflavoured with LCP is indicated for the initial and continuing treatment of multiple food allergies including allergy to:
Cow's Milk Protein
Soy Protein
Protein Hydrolysate Formulae
EleCare Unflavoured with LCP is also indicated for other conditions in which an amino-acid based diet is required (e.g. maldigestion, malabsorption and GI tract
impairment).
Suitable for use in both oral and tube feeding.
100% free L-amino acids
1/3 of fat blend as Medium Chain Triglycerides (MCT) to aid fat absorption
With LCP* to support healthy brain and eye development
Hypoallergenic
Supports normal growth and improves iron status
Milk free, lactose free, gluten free and soy protein free
http://www.abbottnutrition.co.nz/Portals/0/img/Abbott_NZ_Paediatric%20Specialised%20Nutrition.pdf
55.9% corn syrup solids, 8.7% high-oleic safflower oil, 7.7% Medium Chain Triglycerides (MCT oil), 6.5% soy oil, 2.1% l-glutamine, l-asparagine, l-leucine, DATEM (Emulsifier), l-lysine acetate, calcium phosphate l-valine, potassium phosphate, l-isoleucine, l-arginine, l-phenylalanine, l-tyrosine, l-threonine, sodium citrate, potassium citrate, l-proline, l-serine, l-alanine, glycine, l-histidine, l-methionine, ascorbic acid, magnesium chloride, l-cystine dihydrochloride, ARASCO mortierella alpine oil (ARA), l-tryptophan, calcium carbonate, DHA cryptheodinium cohnii oil (DHA), choline chloride, m-inositol, salt (sodium chloride), ascorbyl palmitate, taurine, ferrous sulphate, zinc sulphate, niacinamide, dl-alpha tocopheryl acetate, l-carnitine, calcium pantothenate, thiamin chloride
hydrochloride, cupric sulphate, vitamin A palmitate, manganese sulphate, riboflavin, beta carotene, pyridoxine hydrochloride, folic acid, biotin, phylloquinone, chromium chloride, potassium iodide, sodium selenate, sodium molybdate, vitamin D3, and cyanocobalamin.

Important notice: Breast milk is best for babies. Professional advice should be followed before using an infant formula. Introducing partial bottle-feeding
could negatively affect breast-feeding. Good maternal nutrition is important for breast-feeding and reversing a decision not to breast-feed may be difficult.
Infant formula should be used as directed. Proper use of an infant formula is important to the health of the infant. Social and financial implications should be considered when selecting a method of feeding.