EQUAZEN EYE Q CAPSULES 800mg 60
The formulation of Eye q reflects research that particular long chain fatty acids are crucial for eye and brain function, specifically in such areas as concentration, learning ability and coordination.

A large proportion of the brain and the eye are made of these vital nutrients. Supplementing your diet with eye q is a convenient way to ensure your intake of important fatty acids, particularly the functional fatty acid EPA.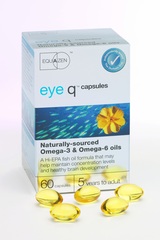 Specials are for online purchases only, don't miss out! -
Email
us to check for availability.
What is the fish source of eye q?

Sardines and pilchards, harvested from the unpolluted southern oceans.

Is it free of PCBs, dioxins and other environmental pollutants?

Yes. Our source oils are of unequalled purity, but to be sure, every batch is independently tested to make sure that these elements are not present.

How much eye q should I take?

We advise taking at least six capsules a day for the first three months, and then you can reduce to a lower maintenance intake of at least two capsules or one 5 ml tsp of liquid

What about for children, particularly those under the age of five?

There is no stage of life when one should not have an adequate supply of fatty acids, and children can take the same levels as adults. In general, if a child is on solids, they should be able to tolerate our oils, and certainly they will find our liquid easier to swallow than capsules. To be prudent, we would advise that children under the age of five start off on about 1 x 5ml tsp a day for the first week to see that they can tolerate the oils. Once established, you can then increase to 3 tsp a day.

Will all fish oils get me the same result?

No. eye q is a formulation of the particular fatty acids required for optimal brain function. It combines omega-3 EPA with omega-6 GLA, and uses natural source oils of the highest purity. The results seen in recent television coverage reflect what has been seen in various clinical trials that prove the efficacy of the product. eye q is a clinically-proven formulation.

Why don't I just take cod liver oil?

While this can be a good source of omega-3 fatty acids, it is not advised to take this on the sustained basis required for addressing possible deficiencies linked to conditions of mood and learning. This is because cod liver oil contains elevated levels of Vitamin A and D, which should not be consumed in excess

Are Fatty Acids really essential?

Yes. Life without fatty acids is impossible. At the elementary level, fatty acids are instrumental in energy production, circulatory health and good metabolism. They are precursors to prostaglandins, messenger molecules that control and regulate such important functions as reproduction and fertility, inflammation reactions, immunity and communication between cells. Fatty acids are particularly key in the active tissues of our body, such as the brain, sense organs, heart, lungs, kidneys, adrenal glands, and testes.

The points below show how fatty acids govern the key processes of life.
As building blocks of the membranes of all the some 50 trillion cells in an average adult
Energy production, by hooking together oxygen, electron transport and energy in the process of oxidation
Oxygen transfer, from the lungs to our cells
Hemoglobin production
Constructing and maintaining membrane components
Recovery from fatigue
Prostaglandin production
Growth, by improving metabolism
Cell division
Brain development
Maintenance Dose: 2 capsules per day with food.
Taking Eye Q for the first time: For the First time, take 6 capsules per day with food for 12 weeks. These levels of consumption reflect numerous studies which show that it can take about 12 weeks to build up the body's stores of long chain fatty acids.
Typical Nutrition Information
Per two capsules:
Fish Oil 800mg of which:
Eicosapentaenoic Acid (EPA) 186mg
Docosahexaenoic Acid (DHA) 58mg
Evening Primrose Oil 200mg of which:
Gamma Linolenic Acid (GLA) 20mg
Natural Vitamin E 3.6mg

Ingredients:
Hi-EPA oil, capsule shell (gelatine, glycerol), Evening Primrose Oil, natural vitamin E (D-alpha tocopherol, from IP-soya)
Store in a cool dry place, out of reach of children. If you are taking any medicines, always consult your doctor before commencing supplementation.