EQUAZEN EYE Q LIQUID 200ml
Did you know? Equazen eye q is a great way to get your Omega-3 and Omega-6 essential fatty acids. They are called essential because your body can't produce them so they have to come from your diet - it's essential! These essential fatty acids play a vital role in almost every part of our bodies, including the brain. So taking Equazen eye q as part of your regular diet may help to maintain certain aspects of brain function such as learning ability.

Equazen eye q is popular with kids and adults alike and is suitable for all ages! Available in a range of flavours and formats there is a product for anybody who wants to take fish oils!

Suitable for 2 years +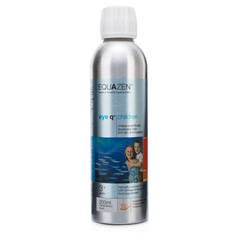 Specials are for online purchases only, don't miss out! -
Email
us to check for availability.
It's hard to get children to take supplements, especially fish oil. That's where Equazen eye q liquid comes in! Equazen Eye Q only uses naturally sourced oils in their liquid formulations.

Firstly, Equazen high EPA marine lipid is processed to remove much of the fishy taste and odour. Great for kids! Equazen then combine the fish oil with Equazen's virgin EPO, which is certified as being free of any chemicals or additives, with hi-oleic sunflower oil. Children will love Equazen eye q liquid's vanilla flavour too. Extracted from Madagascan vanilla beans, the latest flavouring technology developed for the luxury ice cream industry, but without the sugar!

Also great for those who find it difficult to swallow capsules, we advise one teaspoon of Equazen eye q liquid per day. If you are starting supplementation after a long break or for the first time, Equazen suggest a daily intake of three teaspoons for the first twelve weeks, in order to build up the body's levels of Essential Fatty Acids. Once opened, refrigerate and consume within three months. Chilled oil may look cloudy. Some of the production methods use synthetic additives that may not be best for those with dietary sensitivities.
Maintenance dose: Take One teaspoon per day with food
First taking Eye q: Take at least three teaspoons per day with food for 12 weeks. These levels of consumption reflect numerous studies which show that it can take about 12 weeks to build up the body's stores of long chain Fatty Acids.

After this time, you can reduce the intake to a maintenane level, usually one teaspoon per day. Intake can be increased at any time to meet individual needs. These intakes are suitable for both adults and children.
Per daily intake (5ml teaspoon)
Eicosapentaenoic Acid (EPA) 186mg
Docosahexaenoic Acid (DHA) 58mg
Gamma Linolenic Acid (GLA) 20mg
Natural Vitamin E 10.6mg
Store in a cool dry place, out of reach of children. If you are taking any medicines, always consult your doctor before commencing supplementation.