Ethical Nutrients Extra C Powder 100 g
Highly Absorbable Vitamin C

pH Adjusted Vitamin C Supplement with Hesperidin and Cysteine.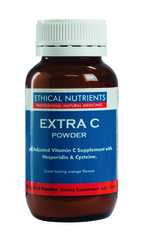 Specials are for online purchases only, don't miss out! -
Email
us to check for availability.
Therapeutic applications:

Assists in the management of colds by reducing the severity and duration of symptoms.
May assist in reducing the severity of hay fever, allergies and upper respiratory tract infections.
May assist in minor wound healing, reducing muscle sorenesss, and promoting healthy bones, teeth, skin and hair.
Antioxidant and free radical scavenger.
Directions for use:

Adults: Take 1.35 g (1/3 of a 5.0 g metric teaspoon) in water or juice daily or as directed by a healthcare professional.

Extra C contains Vitamin B3, Hesperidin and Cysteine which act to greatly enhance the effectiveness of Vitamin C.

This product is sold by weight not volume. Some settling may occur.

Not suitable for children under two years of age without medical advice. Vitamins can only be of assistance if dietary vitamin intake is inadequate.

Do not use if cap and/or bottle seals are missing or broken.

No added artificial flavouring or colouring. Free from gluten, wheat, dairy, lactose, eggs, nuts, yeast and salt.

Store below 30°C.
Each 1.35 g dose of powder contains:

Calcium ascorbate
518 mg
Equiv. Ascorbic acid (Vitamin C)
425.6 mg
Ascorbic acid (Vitamin C)
397 mg
Sodium ascorbate
148.5 mg
Equiv. Ascorbic acid (Vitamin C)
131.2 mg
Nicotinamide (Vitamin B3)
100 mg
Magnesium ascorbate
71 mg
Equiv. Ascorbic acid (Vitamin C)
63.7 mg
Potassium ascorbate
25.5 mg
Equiv. Ascorbic acid (Vitamin C)
18 mg
Hesperidin
16.7 mg
Cysteine
6.8 mg

Always read the label. Use only as directed. If symptoms persist consult your healthcare professional.