Ethical Nutrients Ginseng-5 Exhaustion Relief 60 Capsules
Stress and Exhaustion Relief.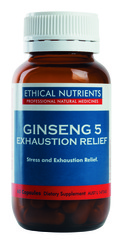 Specials are for online purchases only, don't miss out! -
Email
us to check for availability.
Therapeutic applications:

Ginseng 5 Exhaustion Relief may:

Minimise the effects of mental and physical stress.
Improve the body's ability to deal with stress.
Assist physical performance and work capacity.
Improve vitality, concentration, mental and physical performance.
Support the body's immune system during times of stress.
Each capsule contains:
Directions for use:

Adults: Take 1 capsule twice daily or as directed by a healthcare professional.

Do not use if cap and/or bottle seals are missing or broken.

No added artificial flavouring, colouring, or preservatives. Free from gluten, wheat, dairy, lactose, corn, cereals, eggs, nuts, starches, yeast, and salt.

Store below 30°C.
Each capsule contains:

Extracts equivalent to:

Eleutherococcus senticosus root, dry
(Siberian ginseng).
1.5 g
Withania somnifera root, dry (Indian ginseng).
1.0 g
Panax Ginseng root, dry (Korean ginseng).
1.0 g
Panax notoginseng root, dry (Chinese ginseng).
1.0 g
Panax quinquefolius root, dry (American ginseng).
1.0 g
Always read the label. Use only as directed. If symptoms persist consult your healthcare professional.