Ethical Nutrients Hi-Strength Natural Vitamin E 30 Capsules
All Eight Forms of Vitamin E for Superior Health Benefits.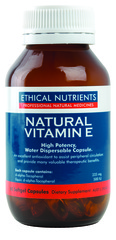 Specials are for online purchases only, don't miss out! -
Email
us to check for availability.
Therapeutic applications:
Hi-Strength Natural Vitamin E contains all eight forms of vitamin E, including four tocopherols (alpha,beta, gamma and delta) and four tocotrienols (alpha, beta, gamma and delta) to help:
• Support a healthy heart and cardiovascular system.
• Support healthy capillaries.
• Protect healthy body cells from free radical oxidative damage.
Adults and children over 12years:
Take 1 capsule daily or as directed by a healthcare professional.
Each capsule contains:
Tocopherols concentrate – mixed (low alpha type)450 mg
Tocotrienols complex – palm*70 mg
If symptoms persist consult your healthcare professional. Vitamin supplements should not replace a balanced diet. Do not use if caps and/or bottle seals are missing or broken.
No added artificial flavouring, colouring or preservatives. Free from gluten, wheat, dairy, lactose, corn, cereals, eggs, nuts, starches, yeast and salt.
*Sustainably sourced palm. Palm is a superior source of vitamin E as it naturally contains a higher concentration of tocotrienols and tocopherols, and has more research on its health benefits than other sources.