Figaro Hair Food PLUS 60 capsules
Discover how to maintain Strong, Healthy, Vibrant and Lustrous Hair!
For many people their hair is their crowning glory…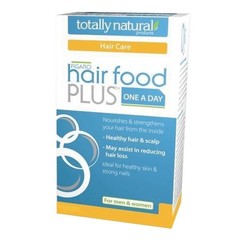 Specials are for online purchases only, don't miss out! -
Email
us to check for availability.
A beautiful head of hair is a joy to see, giving you enormous self confidence and self esteem! Thousands of men and women wonder why their hair is not as full and gleaming as it once was. They don't realize constantly bombarding their hair and scalp with hair treatments loaded with chemicals is damaging their most precious asset. Perming, bleaching and colouring agents contain a cocktail of chemicals that can rob your hair of the essential proteins and moisture it needs. This can leave your hair fragile, easily damaged and brittle. These chemicals can also rob your skin of natural oils that may lead to a flaking and itchy scalp. Blow driers are also notorious for damaging your hair.

Nutritional support for healthy, strong and vibrant looking hair
So why settle for brittle, lifeless and thinning hair when achieving healthy hair is possible? If you want your hair looking as healthy, strong and vibrant as it can be, taking the right nutrients for your hair, maybe just what you need!

It's true! If you're not getting enough of the right nutrients your body can't produce good hair…
It's as simple as that! Your hair relies on certain nutrients in your blood to feed on so it can grow strong and healthy.

In 1947 Norman Sherriff pioneered natural hair care products in Australia. He realised dietary deficiencies may be the cause of poor hair and scalp. Norman developed a special nutritional supplement to supply your body with nutrients important for healthy hair. He called this formula Figaro Hair Food No 7. That was way back in 1970.

How does Caruso's Figaro Hair Food Plus help your hair?
Your hair grows from a little pouch in the scalp called a 'follicle'. Tiny blood vessels link your blood supply to these tiny pouches, feeding the growing hair shaft. Nutrients like those formulated in Caruso's Figaro Hair Food Plus are supplied by your blood to support tiny follicle cells. The best selling book 'How To Get Well' says healthy hair needs nutrients like Calcium Pantothenate, Biotin, Folic Acid, Inositol, Riboflavin, Nicotinamide and Zinc. It is these selected ingredients which the Australian natural health company Caruso's Natural Health used to specially formulate Figaro Hair Food Plus.

Good for your hair and scalp
Caruso's Figaro Hair Food Plus contains Biotin and Folic Acid, which may be good for your hair and scalp.

Are you concerned about losing your hair?
If you are losing your hair Caruso's Figaro Hair Food Plus, may help you. A deficiency of Biotin and Folid Acid are associated with hair loss and dandruff production. Biotin may assist with hair loss, so just as well it and Folid Acid are found in Caruso's Figaro Hair Food Plus. Importantly, Inositol has been included in this formula because it is used for assisting healthy hair growth.

Other nutrients in Caruso's Figaro Hair Food Plus are Vitamin B2 and Silica. Vitamin B2 helps to maintain healthy hair whilst Silica plays a role in the formation of connective tissue giving integrity, stability and elasticity to hair cells. With all these nutrients Caruso's Figaro Hair Food Plus may help you to maintain healthy, shiny, good looking hair.

So if you have nutritionally based hair problems, your hair is likely to thrive when your nutritional deficiencies are overcome. The good news is Caruso's Figaro Hair Food Plus combines all these important hair nutrients and more in one convenient tablet.

Also ideal for your skin and nails
Vital nutrients in Figaro also make it ideal for your skin and nails. Biotin may help strengthen nails so you can better manage nail splitting. It's also important to note insufficient levels of Biotin can be linked to dry, flaky or dull skin. Silica helps give integrity, stability and elasticity to your skin, nails (and hair). Deficiencies in Folic Acid can dull skin. Riboflavin helps you produce collagen which forms the structure of your skin. Both Folic Acid and Riboflavin are in Figaro Hair Food Plus.
Adults take 1 tablet with main meal or as advised by your Healthcare Professional.
Active Ingredients. Each tablet contains:
Calcium Pantothenate 300mg
Equiv. to Pantothenic Acid 274.83mg
Equiv. to Calcium 25.17mg
Biotin 2.5mg
Folic Acid 90mcg
Inositol 100mg
Riboflavin 5mg
Nicotinamide 20mg
Zinc Sulfate Monohydrate (Equiv. to Zinc 15mg) 41.16mg
Silica - Colloidal Anhydrous (Equiv. to Silica 25mg) 53.5mg
Not suitable for persons under the age of 18 years. Take at least two hours away from other medications. Not suitable during pregnancy or breastfeeding. Use only as directed if symptoms persist see your Healthcare Professional.