Gastrolyte Rehydration Formula 20 raspberry effervescent tablets
Gastrolyte rehydration formula helps rehydrate the body quickly and can also be beneficial when dehydration occurs as a result of vigorous exercise.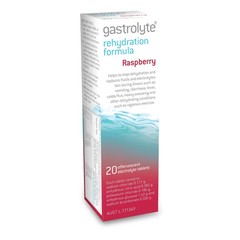 Specials are for online purchases only, don't miss out! -
Email
us to check for availability.
Gastrolyte rehydration formula is a balanced mix of glucose and minerals aimed to promote the absorption of water, replacing lost fluids quickly resulting in a speedy recovery for infants, children and adults.
Dissolve 2 tablets in 200 mL of fresh cold drinking water. For infants under 2 use freshly boiled and cooled water. Stir well until the tablet has completely dissolved. Drink solution frequently while the diarrhoea or dehydration lasts. If nausea or vomiting is present, drink small, frequent amounts of solution.Use water only to mix. Never dilute with lemonade, soft drinks, cordials or any other fluid other than water. Made-up soklution may be used for up to 24 hours if kept refrigerated, otherwise discard within 1 hour.
Each tablet contains sodium chloride 0.117g anhydrous citric acid 0.384g potassium chloride 0.186g anhydrous glucose 1.62g sodium bicarbonate 0.336g.
Contains glucose, saccharin and potassium. If you have kidney disease or are taking heart or blood pressure medicines consult your Doctor or Pharmacist before use. Keep out of reach of children.Seek medical advice if your condition worsens or diarrhoea persists for more than:6 hours in babies under 6 months old, 12 hours in children under 3 years, 24 hours in children 3-6 years, 48 hours in children over 6 years of age or the child has decreased urinary output.Do not use if cap seal is broken. Use only as directed. If symptoms persist consult your healthcare practitioner.