Gaviscon Liquid peppermint 500ml
Gaviscon Liquid helps relieve the burning pain of heartburn and the discomfort of indigestion - helps protect inflamed oesophageal tissue - helps prevent further inflammation by forming a physical barrier to reflux.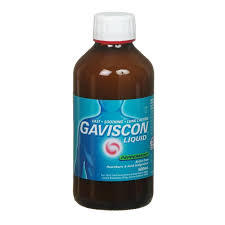 Specials are for online purchases only, don't miss out! -
Email
us to check for availability.
The alginate "raft" helps keep gastric contents in place, thereby reducing the likelihood of these irritating the delicate lining of the oesophagus.
Adults:
Take 10 to 20ml after meals and before going to bed, up to 4 times a day.
Children 6 - 12 years:
Take 5 to 10ml after meals and before going to bed, up to 4 times a day.
Children under 6 years: should only be given Gavsicon on a doctor's advice.

It is recommended that you do not lie down or go to bed immediately after taking Gaviscon.
If symptoms persist see your doctor.
Contains per 10mL dose
Sodium alginate 500mg
Sodium bicarbonate 267mg
Calcium carbonate 160mg
Always read the label carefully and use strictly as directed.
Consult your doctor or pharmacist if you are pregnant or breastfeeding, allergic to any of the ingredients in this product, are on a sodium restricted diet or have renal impairment. Not recommended for infants and young children.