Go Healthy GO THYROID PROTECT 60 capsules
GO THYROID PROTECT is a comprehensive blend of herbs, vitamins and minerals that support healthy thyroid function. GO Thyroid Protect has been designed specifically to support and nourish the thyroid gland, making it the ideal supplement to support optimal thyroid function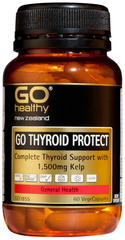 Specials are for online purchases only, don't miss out! -
Email
us to check for availability.
GO THYROID PROTECT is a comprehensive blend of herbs, vitamins and minerals that support healthy thyroid function. GO Thyroid Protect has been designed specifically to support and nourish the thyroid gland, making it the ideal supplement to support optimal thyroid function. Kelp is a good natural source of Iodine, which is important for normal thyroid metabolism. Kelp has been included at 1,500mg per dose. This is a one a day, high potency formula in an easy to swallow VegeCap.
Natural complete support for healthy thyroid function
Helps address fatigue
Contains Kelp 1,500mg, a natural source of Iodine
VegeCap Advantage
Dosage:
Take 1 capsule daily. Can be taken anytime, with food.
Coleus (Coleus forskholii) ext. equiv. to 100mg, Copper gluconate (equiv. to Copper 1mg) 7.5mg, Ginger root (Zingiber officinale) ext. equiv. to 100mg, Iodine (Potassium Iodide) 150mcg, Kelp (Fucus vesiculosus) ext. equiv. to 1,500mg, L-Tyrosine 300mg, Manganese amino acid chelate (equiv. to Manganese 5mg) 25mg, Milk Thistle (Silybum marianum) ext. equiv. to 150mg, Selenium (as selenomethionine) 150mcg, Vitamin B1 (Thiamine hydrochloride) 15mg, Vitamin B2 (Riboflavin) 25mg, Vitamin B3 (Nicotinamide) 15mg, Vitamin B5 (Calcium pantothenic acid) 7.5mg, Vitamin B6 (Pyridoxine) 10mg, Vitamin B12 (Cyanocobalamin) 50mcg, Vitamin C (Calcium ascorbate) 100mg, Withania (Withania sominfera) ext. equiv. to 150mg, Zinc amino acid chelate (equiv. to Zinc 15mg) 75mg
This product should not be taken in those with overactive thyroid function (hyperthyroidism). In all cases of thyroid problems, seek professional advice before self prescribing. Not to be taken during pregnancy or lactation. Do not use together with thyroid hormone medicines without medical advice. Always read the label. Take only as directed. If taking prescription medication or if in doubt, consult your Healthcare Professional.
GO Healthy New Zealand is a leading natural health supplement company created to help you maintain and improve your health. When you have your health you can live your life to the fullest.

Our aim at GO Healthy New Zealand is to provide you with great health products with the best ingredients and superior formulations delivered in a convenient dose. To deliver you the best formulations, GO Healthy selectively sources ingredients from around the world and uses New Zealand ingredients wherever possible.