Goodhealth Mg Lax™ 60 capsules
Bowel support
*Magnesium-based formula
*Naturally supports bowel elimination
*Encourages bowel regularity
*Added Fennel and Aloe Vera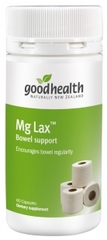 Specials are for online purchases only, don't miss out! -
Email
us to check for availability.
Mg Lax™ is a magnesium-based formula designed to naturally support healthy regular elimination by attracting water into the bowel to soften stool. Herbal extracts of Fennel and Aloe Vera provide soothing and settling qualities for the bowel.

To support bowel health always drink plenty of water and incorporate fibre-rich foods such as fresh fruit and vegetables into the diet.
Directions: Rapid dose: Adults: Take 4 capsules two to three times daily for up to 3 days. Results may occur within 3-6 hours.

Mild dose: Adults: Take 5 capsules daily for up to 2 weeks.

Magnesium supplementation dose: Adults: Take 1 capsule daily. This dose will not effect bowel regularity. Dosage requirements may vary for each individual. Best taken between meals or on an empty stomach for optimal effect.
Ingredients: (per capsule)
Vitamins & Minerals:
Magnesium Oxide (Equiv. Magnesium 241mg) 400mg
Magnesium Sulphate (Equiv. Magnesium 50mg) 400mg
Ascorbic Acid (Vitamin C) 50mg
Pyridoxine Hydrochloride (Vitamin B6) 2mg
Sodium Chloride 5mg
Potassium Chloride (Equiv. Potassium 10mg ) 20mg
Herbal extracts equivalent to dry:
Aloe barbadensis Dry Leaf (Aloe Vera) 50mg
Foeniculum vulgare Seed Powder (Fennel) 50mg

Do not use if cap seal is broken.

No artificial flavours, sweeteners, preservatives or colours used in this product.

Precaution: For best bowel regularity drink 1-3 litres of water daily.

If taking prescription medicine or if symptoms persist consult your healthcare practitioner.

Not suitable for children under 6, for those with kidney disease, gastroenteritis, or during pregnancy or breastfeeding.
Good Health is a proudly New Zealand owned and operated family business, started over a quarter of a century ago by John Blanchard. John's agricultural career background led him to become fascinated with the health benefits of herbal and oil seed crops, so much so that in 1987 he opened the doors for business, and Good Health began. Today, John's sons Dave and Brian head our iconic New Zealand company. As a business, Good Health has grown - we now offer a range of over 350 products to boost natural immunity and enhance health and vitality.

Wellbeing and vitality are at the heart of everything we do, so we insist on using only the purest quality ingredients to support good health. Our products come from sustainable resources and are GE free. Wherever possible, we source these first from New Zealand farms and growers, or accredited international manufacturers. Then we optimise their amazing natural properties through our unique enhancement processes.