Habitrol 21mg/hr Nicotine 7 patches
Habitrol patches are a very effective form of Nicotine Replacement Therapy (NRT).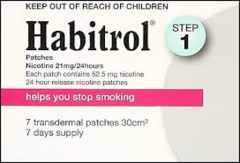 Specials are for online purchases only, don't miss out! -
Email
us to check for availability.
Habitrol patches help to alleviate nicotine withdrawal symptoms by releasing a small, controlled amount of nicotine into the system.

Nicotine withdrawal symptoms can include craving for tobacco and the desire to smoke, irritability, moodiness, restlessness, tenseness, anxiety, a feeling of hunger, weight gain, difficulty concentrating and sleep disturbances.

Habitrol patches largely prevent these cravings, weight gain and other withdrawal symptoms.
Habitrol:Habitrol Patches 7 - 21mg - Step 1

Apply one Habitrol patch daily. Remove and replace at the same time each day.

For people who smoke more than 20 cigarettes a day, it is recommended that you start on 21mg patches - Step 1. For people who smoke less than 20 a day, it is recommended that you start on 14mg patches - Step 2.

Read full instructions enclosed for the 3 step programme.
Habitrol patches should be used for no more than three months.

Do not use Habitrol Patch If:

You are pregnant or intend to become pregnant
You are breast-feeding or intend to breast-feed
You have had a recent heart attack or stroke
You have heart disease such as palpitations (fast or irregular heart beats) or uncontrolled angina (chest pain)
You are a non-smoker
You are under 18 Years old.
If you are unsure which program is right for you please talk to a health professional before commencing any stop smoking programme.