Habitrol 2mg Nicotine 36 lozenges
Habitrol Lozenges are a great new product to help you quit smoking for good. Habitrol Lozenges provides an effective aid to combat the unpleasant withdrawal effects caused by giving up smoking.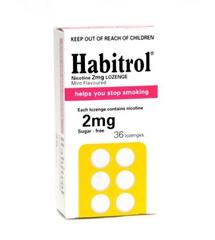 Specials are for online purchases only, don't miss out! -
Email
us to check for availability.
In order to quit smoking it is important to recognise there are two sides to smoking. Firstly there is the psychological dependence on cigarettes and as a regular smoker smoking itself has become an important part of your daily life. Secondly there is the physical addiction to nicotine. Cigarettes contain nicotine and your body has become dependent on the nicotine contained in those cigarettes.
Habitrol Lozenges can help reduce your desire to smoke by providing some of the nicotine your body is used to getting as a smoker. In turn this helps you resist smoking itself. When you suck a Habitrol Lozenge nicotine is released slowly from the lozenge and is absorbed by the lining of the mouth. The amount of nicotine in the lozenge can also help to reduce some of the unpleasant effects that often happen when quitting smoking such as feeling ill or irritable.
Habitrol Lozenges are available in two strengths the 1mg and the 2mg and Habitrol Lozenges come in a great tasting mint flavour. Each pack of Habitrol Lozenges contains 36 individual lozenges and Habitrol Lozenges are sugar free.
Suck one Habitrol Lozenge when you feel the urge to smoke. Do not swallow the lozenge. Do not exceed more than 25 of the 1mg lozenges or 15 of the 2mg lozenges per day.
Nicotine bitartrate dehydrate, maltitol, sodium carbonate, sodium bicarbonate, polyacrylate, dispersion, xanthan gum, colloidal anhydrous silica, levomenthol, peppermint oil, aspartame and magnesium stearate.
Habitrol Lozenges are not recommended for people who have found other forms of nicotine replacement therapy unsatisfactory.
The sodium content should be taken into account by those on a low sodium diet.
Aspartame is a source of phenylalanine which may be harmful for people with phenyiketonuria.
Product containing maltitol may have a laxative effect or cause diarrhoea.
Do not use Habitrol Lozenges if:
Your mouth or throat is sore.
You are pregnant or breastfeeding.
You are under 18 years old.
You are a non-smoker.
You are hypersensitive to nicotine or any or the ingredients in the lozenges.
You have had a recent heart attack or stroke.
You have angina (chest pain) that is not well controlled or is getting worse.
You have severe arrhythmia (irregular heart beat).