Harker Herbals Sniffle Juice 500ml
An excellent pleasant tasting lung elixir and nutritional blood-iron tonic in one.
Sniffle Juice is gentle enough for consumption by children and elderly people.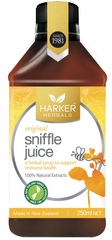 Specials are for online purchases only, don't miss out! -
Email
us to check for availability.
This fast, double acting, iron-rich elixir is lavish in organic blackberries to support lung oxygen capacity, breathing and provide vital nutrients. Celtic Sea Salt also provides valuable minerals, while added herbs and oils help to clear mucus from the lungs.
Treats sniffles, ills and chills and helps clear mucus.
An Iron-rich, blood tonic elixir that treats low iron and low energy.
Acts as a general 'pick-me-up', cell-energizing daily blood tonic.
Ideal for all ages, especially children and the elderly.
Best taken straight by 1 to ½ teaspoon straight or by drops for infants. Can be taken in 50mls of boiled water as a tea.
Dietary Advice: Avoid - mucus-forming foods such as gluten, egg-white, chocolate, sugar, dairy, polyunsaturated oils, regular salt. Adopt - gluten-free grain foods, whole foods (greens, fruits, nuts, seeds), unprocessed coconut oil, 1022 Celtic & NZ Sea Salt with kelp, oxygen-rich water. For best results use with 825 Verm-ez for 1 - 2 weeks. Swill prior to swallowing.
Contains Menthol, shake vigorously before use. Shake bottle vigorously prior to each dose. To accustom to product take a ¼ to ½ dose for the first 2 or 3 days. If taking prescribed medication, consult with your Doctor prior to using 'Malcolm Harker' herbal tonics. Avoid coffee or tea for ¼ hour before and after dose.
Do not exceed stated dose. Keep out of reach of children. While some sources suggest that some ingredients contained in this product should not be taken during pregnancy, Malcolm Harker M.H.D. considers that this product may be taken during pregnancy if the dose is reduced to a ¼ of the recommended dosage during the first 12 weeks of pregnancy or when attempting conception. For further advice regarding the above, contact Malcolm Harker M.H.D. at
[email protected]
.
All 100% Natural Herbal Ingredients
Our herbal tonics contain only 100% natural herbal extracts sourced from the very best herbal growers in New Zealand and overseas.

All our herbal remedies are made in a GMP certified facility in the sunny Hawkes Bay. This means they meet the highest standards for natural health products in New Zealand and overseas.