Harmony Menopause 60 tablets
Martin & Pleasance (ex-Zen Therapeutics) Harmony Menopause is formulated to relieve symptoms of menopause, premenstrual tension and support normal female physiology during hormonal changes. Its vital herbal extracts are very nourishing and help calm the mind and support the body's reserves to assist well being.
Effective relief of symptoms of Menopause & PMT
Popular formula based on TCM & Western medicine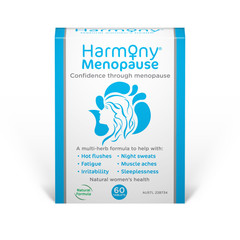 Specials are for online purchases only, don't miss out! -
Email
us to check for availability.
Martin & Pleasance (was branded Zen Therapeutics) Harmony Menopause contains nine herbal extracts and nutrients that in this combination, have a special synergistic effect that is not available in other products. With both Chinese and western herbs and nutrients, Harmony combines the wisdom of traditional Chinese medicine with western medicinal research to bring you the best of both worlds.

Harmony provides effective relief from the symptoms of menopause and premenstrual tension such as:

Hot flushes.
Irritability.
Menstrual cramps.
Sleeplessness, night sweats and mild anxiety.
Abdominal bloating and fluid retention.
Mood swings, joint aches and headaches.
Breast tenderness.

Harmony's principle herb, Rehmannia, is a major Chinese herb that is commonly used for treating gynaecological symptoms, especially heat related. Rehmannia is very effective for reducing heat. Excessive heat causes hot flushes, irritability and sleeplessness.

Rehmannia is also a strong tonic that provides nourishment and has moisturising properties. This helps improve general well being as well as the health of the skin, nails and hair which is often noticeably improved after taking Harmony for a couple of months.

Rhemannia glutinosa root
May help clear heat from the body, improves libido and energy.

Angelica polymorpha root (Dong Quai)
Can help provide energy and nourishment for the body

Dioscorea opposita root & rhizome (Chinese Yam)
May help reduce night sweats and supports the kidneys.

Paeonia lactiflora root (Peony)
Can help provide nourishment for blood.

Buplerurum falcatum root
Can help regulate emotions and stabilise moods.

Vitex agnus-castus furit (Chaste Tree)
May help relieve fluid retention, headaches and irritability.

The nature of Harmony is balancing, calming, cooling, nourishing and moisturising. This may assist with female hormonal balance, stress and tension, sleeplessness, irritability and helping many other symptoms such as dry skin and hair, brittle nails and general wellbeing.
Take 1-2 tablets, two times daily.

The frequency of the dosage (between 1-2 times per day) may be adjusted to suit individuals.

For maintenance, 2 tablets once a day works well for many women.

Or as directed by your healthcare professional.
Each Tablet Contains:

Rehmannia glutinosa root 1.2g (1200mg)
Angelica polymorpha root 200mg
Dioscorea opposita root rhiz. 200mg
Paeonia lactiflora root 200mg,
Bupleurum falcatum root 200mg
Vitex agnus-castus fruit 100mg
Calcium hydrogen phosphate (Calcium 81.6mg) 350mg
Calcium amino acid chelate (Calcium 10mg) 50mg
Magnesium amino acid chelate (Magnesium 10mg) 50mg
Cholecalciferol (Vitamin D3 100IU) 2.5mcg

Free from: Wheat, gluten, and dairy.
Not recommended during pregnancy.